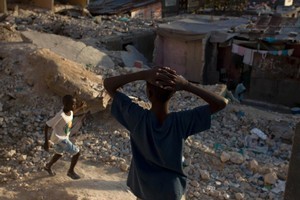 For people with nothing - living in makeshift shelters and tents, without jobs and grieving still for loved ones, struggling to find enough food and water to get through the day - a rough-hewn wooden suggestion box might seem low on their list of essentials.
But in Haiti, where more than a million people remain homeless after the earthquake that tore their lives apart almost exactly a year ago, the chance to have their voices heard is a rare one.
When the boxes began to appear in the towns of tents and tarpaulins that litter the area around the devastated Haitian capital, Port-au-Prince, the response was remarkable.
Thousands of people wrote down their hopes and fears in a deluge of letters that record the human stories behind the disaster.
The project was masterminded by the International Organisation for Migration (IOM). As the anniversary of the earthquake approached, it put out 140 suggestion boxes next to its information booths inside the camps that house survivors.
It plans to publish a handful of them, with portraits of their writers, in a book.
La Voix de Sans Voix (The Voice of the Voiceless) is testimony to the desire of Haiti's new homeless to have their voices heard. It also provides a deeply touching record of how precarious life is for an estimated third of the population of Port-au-Prince.
"A few days after the boxes were installed we had one of our workers walk into the office with a big grin on his face and empty out 900 letters that had been dropped into one box over three days," said the charity's communications head in Haiti, Leonard Doyle.
The boxes seemed a gamble at first, especially since half of Haitians are illiterate. "I anticipated maybe a few cranky letters," said Doyle.
"The sheer volume was an absolute, blow-me-down surprise. So beautifully written too, all real expressions of suffering that give a human face to this tragedy."
The letters that continue to pour in - in French, in Creole, even a few in halting English - show how people have felt voiceless, lost in the scale of the problem. They are written with a politeness of tone and old-fashioned formality. Whether scrawled in a childish hand or in elegantly spaced calligraphy, they hold a similar tone. Politely but firmly, the letter writers under Haiti's tarpaulin shelters want to be heard.
Some of the letters are lists of woes, expressed with a touching restraint, others are simple in the extreme: "Name: Paul Wilbert. Camp: Boulos. Need: House. Demand: $1250. Project: Build house. Thank you."
The addresses at the top tell their own story: Tent J2, Block 7, Sector 3, is where Marjorie Saint Hilaire lives with three sons. Her husband died in the earthquake and the part of the camp she lives in has no school, health clinic or even market stall, but even a year on she has not lost her feelings of gratitude at having survived.
"To all the members of concerned organisations, I thank you first for feeling our pain. I note that you have taken on almost all our problems and some of our greatest needs. We don't want to die of hunger and also we want to send our children to school. I give glory to God that I am still alive - but I would like to stay that way."
Another mother, another camp. Marie Livia Calixte of Delmas wrote: "It is with great sadness that I talk about the deplorable and miserable situation I live in ... I thank God for allowing me to survive and I also thank all those who have helped me to write and continue to help me do so."
During the past few weeks, almost 3000 Haitians have put their scraps of paper in the boxes. Other charities are being encouraged to look at them so they can get an understanding of what people are thinking and feeling.
With 1.3 million displaced people in 1199 camps, homelessness is a whole new level of society here. There have been protest marches to try to force politicians fighting the forthcoming presidential elections to make building new homes a central platform of their campaigns. There is no sign yet that the political elite are listening.
While food, water and medical supplies are reaching many people, there is a strong sense of bewilderment about when money will be spent on rehousing them. Renald Derazin lives in Corail camp, high above Port-au-Prince. "There is anger," he said. "People see the charity workers coming in and they are very glad, but they also know that hotel rooms and food prices go up because they are here. More money is made by renting land to the UN to park trucks than is by renting to people who want to build a new house, so it is very frustrating. That is why they write so many letters."
Sandra Felicien, 33, whose husband died in the quake, now sits in front of an upturned bucket to write a letter at least twice a week - one for herself and one on behalf of her neighbours.
She finds it therapeutic and it has motivated her to become more involved in the sprawling, desperate community in which she now has to raise her 6-year-old son.
"We are so powerless," she said.
"It is like bobbing along on the waves of the ocean, waiting to be saved."
- OBSERVER