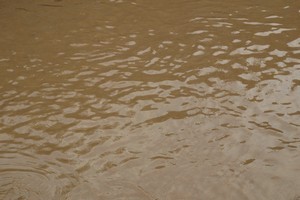 Two flood-stricken New South Wales towns have been swamped by heavy rainfall overnight, forcing more people to flee their homes.
Wagga Wagga and the nearby town of Tarcutta were affected.
The State Emergency Service (SES) said that about 85mm of rain fell across the area within a few hours causing flash flooding and requiring the evacuation of about eight properties at Tarcutta.
Severe flooding may also prompt authorities to shut the Hume Highway north of the town.
"Its really dependent on how much we see falling on the area, the rainfall is determining a lot of factors for us today," SES spokeswoman Erin Pogmore told AAP.
Wagga Wagga copped a drenching, with the thunderstorms resulting in about 700mm of water lying in some parts of the city, although homes were not inundated.
About 700 people in Wagga and in nearby Gumly Gumly have not been allowed back to their homes for days and more wet weather may mean even longer delays before they can return.
A levee protecting the city held up during the downpour but emergency crews were kept busy pumping water and sandbagging properties.
Hours earlier, late on Wednesday, windstorms wreaked havoc and the SES responded to 60 calls for help.
Residents across a large swathe of the state remain on alert with 13 Bureau of Meteorology flood warnings current.
"We will be monitoring where the rainfall does come throughout the day. If we get localised rainfall we will be expecting further river rises in those areas that have flood warnings on them," Ms Pogmore said.
"It is a fairly significant part of the state we will be keeping an eye on."
- AAP