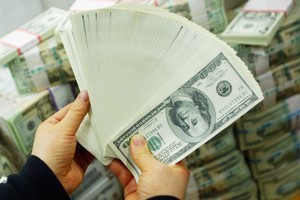 Don't panic. Fears that the United States might fall back into recession pushed London's FTSE 100 to a seven-week low last Wednesday, but City bigwigs can return from their August holidays at their most optimistic since the pre-credit crunch days of 2006.
Even forgetting that low trading exaggerated the FTSE fall and ignoring the encouraging economic growth data from the Office for National Statistics on Friday, there is compelling anecdotal evidence that the Square Mile is in a confident mood. Here are seven reasons why.
1. M&A MANIA
BHP's £25 billion ($54 billion ) offer for the extravagantly named Potash Corporation of Saskatchewan is only likely to get higher, while China's growing interest could set up a takeover battle.
Plenty of other deals are in the pipeline and bankers will be licking their lips at the possibility of insurer RSA returning with an improved offer for the best bits of Aviva's general insurance business.
2. SOVEREIGN SAVIOURS
Ever since the credit crunch, industries from property to power have been holding out for sovereign wealth fund (SWF) money. They have been disappointed - until now.
The US$112 billion ($157 billion) Malaysian Employees Provident fund is scouring Europe for assets and Norway's SWF is about to embark on a shopping spree of London's office landmarks.
3. DIVIDEND DOUGH
Most firms that reported in last week's results bonanza increased their dividend payments to investors. More good news is likely to follow this week.
4. PROPER POLITICS
The Labour leadership election enters its final month. With the LibDems sacrificing principles for power there has been an opposition vacuum that one of the Miliband brothers will finally fill at the end of next month. Spending cuts were needed, but they are severe and every government needs a strong opponent to pick holes in even the most well-considered of plans.
5. LUCRATIVE LISTINGS

There are some big London share offers in the works. Glencore, the commodities trader, has plans to spin off its US$5 billion gold business and banks are close to being picked for the 2011 flotation of the group. Morgan Stanley, Credit Suisse, Bank of America, Merrill Lynch and Citi might all win juicy advisory roles next month. North Sea oil group Fairfield and Madame Tussauds owner Merlin Entertainments could revisit flotation plans.
6. INSPIRING IDEAS
The New City Initiative's proposal for regulations to force advisers to disclose whether or not they are investing in assets beside their clients is being taken seriously by the coalition. The City has taken a battering, but is coming back with ideas like these that are demanding - and getting - respect.
7. POLLY PECK PALAVER
Asil Nadir, the tycoon who fled to northern Cyprus when his Polly Peck empire failed in 1990, is back in Britain, trying to clear his name in court. He's wearing an electronic tag. That has nothing to do with City optimism, but it entertains the hell out of me.
After three long years, it might be time to turn that frown upside down.
- INDEPENDENT