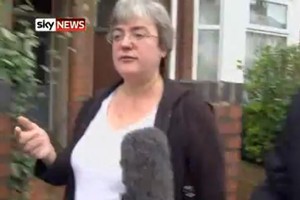 The British woman caught on camera dumping a cat in a wheelie bin yesterday defended her actions, insisting: "I thought it would be funny."
Mary Bale, 45, said she dumped the 4-year-old tabby Lola in the bin as a joke and "didn't see what all the fuss was about".
Bale, from Coventry in England, has received death threats after the CCTV footage swept the internet.
She told the Sun yesterday: "I really don't see what everyone is getting so excited about - it's just a cat."
"I don't know what came over me, but I suddenly thought it would be funny. I never thought it would be trapped. I expected it to wriggle out of the bin. I don't think I deserve to be hated by people all over the world - it was just a split second of madness."
She told the newspaper her father was ill and she felt stressed.
The cat spent 15 hours trapped in the bin before owner Darryl Mann, 26, heard her meows.
Death threats were posted on a Facebook group set up by Lola's owners to identify the woman. One wrote "throw her in the bin and see how she likes it", while others called for her to be killed.
Last night, owner Stephanie Andrews-Mann, 24, said she was glad the culprit had been found and hoped she'd be brought to justice.
Police are keeping watch on Bale's home. A police spokesman said the RSPCA were also looking into the matter.
- Staff reporter