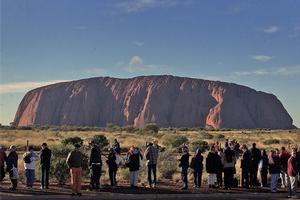 Native Australians are calling for the deportation of a French tourist who performed a strip-dance on top of sacred Ayers Rock.
Alizee Sery, 25, however, says she was merely paying tribute to indigenous culture.
Sery was filmed performing the raunchy act on the World Heritage-listed rock - also known by its aboriginal name of Uluru - in the Northern Territory. She said it had been a life-long dream to visit the site.
"I did it as a tribute to the way it used to be, how they were living naked back in the days, so I am doing a return to the land," she said.
In the video, which has made its way onto the internet, Sery is seen stripping down nothing more than her underwear, boots and a cowboy hat.
Aboriginal elders are outraged and are calling for her deportation.
- AAP