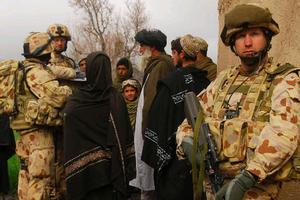 All seven Australian soldiers injured in a helicopter crash in southern Afghanistan on Monday are now being treated in Germany.
Three Australian soldiers died in the accident.
Defence Minister John Faulkner said the injured commandos arrived at the Landstuhl regional medical centre in Germany late on Tuesday night.
"There has been no substantial change to their medical condition," he told reporters in Canberra on Wednesday.
Two of the soldiers are in a very serious condition, one is in a serious condition and four soldiers in a satisfactory condition, he said.
"Their medical condition is being constantly monitored," Senator Faulkner said.
The International Security Assistance Force would conduct the investigation into the helicopter crash, but Senator Faulkner said Australia would be involved in it.
Senator Faulkner said troops numbers would start coming down once the transition occurred.
"At some point within that two to four year timeframe we should see our training mission transition to an overwatch role," he told reporters in Canberra.
"That would obviously mean that at that time we will start to see a reduction in the number of Australian troops in Afghanistan."
- AAP