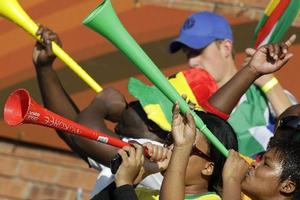 They might be driving some players and supporters to distraction but World Cup organisers today decreed that the ear-splitting vuvuzela trumpet was the symbol of the tournament.
"Everybody loves vuvuzelas," Rich Mkhondo, spokesman for the Local Organising Committee said at a press conference.
The tuneless plastic horns, which generate more decibels than a drum or chainsaw, have split opinion almost as much as they have split ears.
Should the vuvuzela horns be banned from World Cup venues? Here is the latest selection of Your Views: