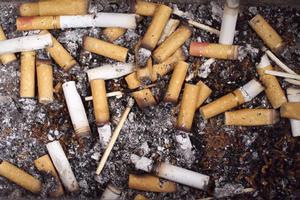 Prime Minister Kevin Rudd has launched a sweeping attack on smoking in a bid to regain political momentum after the collapse of his climate change policy.
In a carefully timed move before next month's Budget, Rudd yesterday announced an immediate 25 per cent hike in the tobacco excise - adding more than A$2 ($2.48) to a pack of 30 cigarettes - and a ban on any form of advertising or inducement on cigarette packaging.
Australian internet advertising of tobacco products will also be restricted.
The moves, which will further strengthen some of the world's toughest anti-smoking laws, will be bolstered by additional spending of A$27.8 million ($34.5 million) over four years on anti-tobacco campaigns.
The new funds will target the young, pregnant women and their partners, low-income earners and other disadvantaged groups.
"This is a tough decision for the Government," Rudd said yesterday.
"It won't win the Government any popularity [and] the big tobacco companies will hate what we are doing."
Big tobacco is already preparing to fight back in a legal firestorm that the conservative think tank, the Institute of Public Affairs, warns could cost taxpayers up to A$3.4 billion a year in compensation.
The institute's free trade unit director, Tim Wilson, said the decision to force the sale of cigarettes in plain packages in effect took trademarks away from tobacco companies.
"Stripping intellectual property from products is akin to stripping someone of their physical property and requires compensation under the Commonwealth constitution and our [international] free trade agreements," he said.
Rudd's laws, which will come into effect on July 1, 2012, will ban or restrict tobacco industry logos, brand imagery, colours and promotional text other than brand and product names in standardised colours, position, font style and size.
Graphic health warnings will be updated and expanded, and the Government will develop and test package designs to diminish the appeal of smoking, especially to the young.
Plain packaging and excise increases were a key recommendation of a report by the National Preventative Health Taskforce, and have been supported by research by the University of Sydney's School of Public Health.
Imperial Tobacco Australia spokeswoman Cathie Keogh told ABC radio the company was looking at legal options to counter a move that removed the ability of a consumer to identify its brand.
"[Plain packaging] really affects the value of our business as a commercial enterprise and we will fight to support protecting our international property rights," Keogh said.
But Health Minister Nicola Roxon said the Government had been given firm advice that it could legislate for plain packaging, and that the laws would be very carefully crafted.
Politically, the new measures are a sound move for Rudd. It is a powerful tool for the shift in emphasis Labor is making away from climate change to health for this year's election, underlining his recent hospital reforms and helping to pay the additional A$5.4 billion needed to buy the states' agreement for the deal.
Rudd said the extra A$5 billion raised through the higher tobacco excise over the next four years would be pumped directly into public health and hospitals.
It is also sound health policy: despite a fall in the number of smokers from 30.5 per cent of the population to 16.6 per cent in the past decade, tobacco still kills more than 15,000 Australians a year, takes up more than 750,000 hospital bed days, and costs the nation A$31.5 billion in health and other social costs.
Unlike his doomed greenhouse emissions trading scheme, Rudd is almost certain to pass this legislation through the Senate.
While the Opposition has not yet committed to vote for it, the package has won the support of the Greens, Family First Senator Stephen Fielding and independent Senator Nick Xenophon, giving the Government the numbers it needs.
The Opposition has taken a cynical view of the timing of Rudd's announcement, accusing him of trying to distract voters before new opinion polling.
"It's come at a time when the Government has done a huge backflip on the ETS and they've got problems continuing with the insulation debacle [after deaths and huge cost overruns in a subsidised home insulation scheme]," shadow health minister Peter Dutton said.
Health advocates have welcomed Rudd's measures. Cancer Council chief executive Professor Ian Olver said the package would cut cancer rates, and Heart Foundation chief executive Lyn Roberts described it as a move of national and international significance.
Public Health Association president Professor Mike Daube said plain packaging was the most important national development in tobacco control since advertising was banned in the 1990s.
"It is hard to overstate the importance of this measure, which removes the last crucial location for tobacco promotion, especially for children," he said. "It sends out a massive signal that cigarettes are on the way out."

BUTTING OUT
Australia's war on smoking
* Banned from all federal workplaces, aircraft, airports, interstate trains and federally registered coaches.
* In most states also banished (with some exemptions) from workplaces, enclosed public spaces - including shops, cafes, restaurants and theatres - and outdoor eating and drinking areas.
* Forbidden on all patrolled beaches in Queensland, with similar bans by cities and shires around the nation.
* Sales restricted to people over 18, with fines soaring up to A$10,000 for individuals and A$40,000 for selling to minors.
* Print and broadcast advertising banned and point-of-sale advertising restricted across Australia, with tighter rules in some states.
* Sponsorships banned under federal laws and further legislation in most states and territories.
* Laws restricting cigarette vending machines to bars or gaming areas in most states, and bans in Tasmania and the Australian Capital Territory.
* Compulsory health warnings across Australia, including graphic pictures of the ravages of cancer.