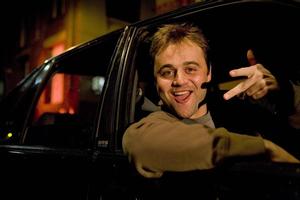 Convicted Australian gangland killer Carl Williams has died after he suffered head injuries and went into cardiac arrest in prison, his lawyer says.
An Ambulance Victoria spokeswoman said paramedics arrived at Barwon Prison about 1.18pm (3.18pm NZT) today to find him in a critical condition.
Two independent sources said the man was Williams, as did his lawyer, Rob Stary.
Williams was serving life imprisonment in Barwon's maximum security Acacia unit with a non-parole period of 35 years for ordering the murders of three underworld rivals and the failed conspiracy to murder a fourth person.
He was found guilty of murdering Jason Moran, Lewis Moran and Michael Marshall.
He had one child, a daughter, with his ex-wife Roberta Williams, a convicted drug trafficker.
He was portrayed by Gyton Grantley in Underbelly, a television drama based on the events of Melbourne's gangland wars from 1995 to 2004.
In 2008 Williams told ninemsn.com.au through an intermediary that he had been portrayed as a "brain dead goose" in the show, but did not care because he "won the war."
Grantley said he hoped Williams would like the portrayal, and hailed him for almost giving Australia "a bit of pride in their own gangster."
Williams was not the "stereotypical gangster mafia man from Italy, but the tracksuit-wearing bogan from Sunshine that drives a Monaro," he said when Underbelly first went to air in Australia.
Williams' father George was released from prison in June 2009 after serving a sentence for drug trafficking, while his mother Barbara was found dead in 2009 after an apparent overdose.
Underworld figure Mick Gatto said he had heard rumours about Williams having died but said that was all he had heard.
"I would rather let dead dogs lie," he told AAP.
"If you hear any more let me know but I would rather not comment on him."
He said Williams was "certainly not" a friend.
- AAP, NZ HERALD ONLINE