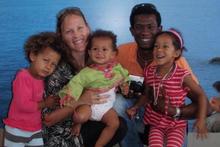 The family of New Zealand woman Emily Sanson-Rejouis, who lost her husband and two of her daughters in the Haitian earthquake last week, will remain in the United States until all efforts to recover the missing body of her eldest daughter have been exhausted.
Mrs Sanson-Rejouis' husband, French-Haitian UN worker Emmanuel Rejouis, and two of their three daughters, Kofie-Jade, 5, and Zenzie, 3, were killed in the earthquake. The bodies of Mr Rejouis and Zenzie have been recovered, but Kofie-Jade is missing.
Mrs Sanson-Rejouis and her bandaged 2-year-old daughter, Alyahna, flew to Florida from the Dominican Republic on Saturday.
Alyahna was rescued by her mother from the rubble of the Hotel Karibe in Port-au-Prince, where the family was staying.
Emily's father, Roger Sanson, said Alyahna was recovering well.
"She's frustrated with the cast on her leg and not being able to run around, but she's showing off her bumps and bruises to everyone. We're starting to see smiles and giggles from her again and that laughter is helping the rest of the family," Mr Sanson said in a statement.
Mrs Sanson-Rejouis was reunited with her parents and sister Rachel Sanson in Miami.
Her sister Rachel said Emily was devastated by her loss.
"She's surrounded by love and support now. At times she's really distraught, but she's focused on Alyahna.
"The rest of the family are focused on caring for Emily and Alyahna and continuing to press for the recovery of Kofie-Jade's body," Ms Sanson said.
Members of Mr Rejouis' family were also with them, Radio New Zealand reported.
The family was making sure the search for Kofie-Jade's body would resume as soon as the focus shifted from the hunt for survivors.
"The UN have made a commitment that they will request an SAR [Search and Rescue] team to search for Kofie-Jade again.
"At the moment, their Search and Rescue focus is on finding survivors and we completely understand that. We don't know when that's going to be, there's obviously so much that needs to happen in Haiti," she said.
Ms Sanson said she expected it would get harder for her sister in the following weeks as she prepared to return to New Zealand with Alyahna.
Mr Rejouis had moved his job from Burundi in East Africa to his homeland of Haiti so he could provide his family with a safer life, according to Jules Hobbs, a friend of the family.
She said Mrs Sanson-Rejouis was bringing their three children up alone in Nelson last year before her husband found them a "safer" way to be together, the Sunday News reported.
"Burundi is not a place to bring up children and his desire was always to find a position which would allow him to keep the family together.
"[Haiti was also an opportunity for] the children to experience the country he was brought up in and speak French as well," she said.
Mrs Hobbs has established a Facebook page to support the family.
- NZPA & NZ HERALD STAFF