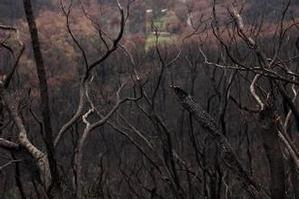 Victoria has declared a Code Red fire warning in the Wimmera region today, ahead of an expected scorcher.
Extreme bushfire warnings will be in place for much of the state, including Melbourne, and a total fire ban has been declared for the entire state.
A Code Red fire warning means that residents in bushfire-prone areas are advised to leave the night before or early in the morning at the very latest.
The Wimmera district is expecting 43 degrees Celsius and strong winds.
Parks and forests were being closed, and residents and holidaymakers have been warned to leave the area reports The Age, a Melbourne-based newspaper.
"This is about protecting lives and taking action," Country Fire Authority chief officer Russell Rees said.
"We want everyone to understand that you do not wait around for a fire and then get on the road. Being on the road during a fire is the most dangerous place to be."
It was highly likely North East Victoria would reach Code Red conditions tomorrow, reports The Age.
- NZ HERALD STAFF