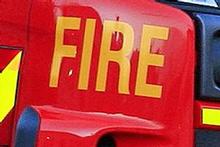 Five people, including four young children believed to be from the same family, have died in a fire that gutted their home near Geelong.
A 31-year-old man survived the blaze by escaping through the front door of the home at Clifton Springs, southwest of Melbourne.
He underwent surgery in Geelong Hospital after suffering burns, abrasions and smoke inhalation. His condition was listed as stable.
"We can confirm that five bodies have been located, including four small children," a police spokeswoman said.
It is believed the six, including the man in hospital, are members of the same family.
The fire completely gutted the Jetty Rd home and severely damaged a neighbouring property. Police could not confirm ages or genders because the bodies had not been formally identified.
Arson squad detectives were at the scene and disaster victim identification experts were helping police, the spokeswoman said.
The Victorian coroner was also investigating. Police said the cause of the fire was not yet known.
Jetty Road resident, Alfred Terrill, 72, said he was woken about 2am by a woman screaming. The woman was a passer-by who had stopped her car and was screaming at the occupants inside, trying to rouse them, Terrill said.
He said when he looked out the window after hearing the screams and saw the fire, the flames completely obscured the house.
"It was a wall of flame from one end [of the house] to the other," Terrill said.
"I couldn't even see the house for the flames, just a red wall of fire."
- AAP