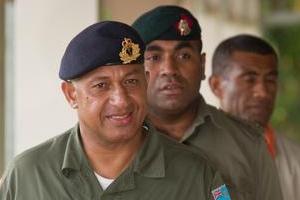 Foreign Affairs Minister Murray McCully is satisfied with the Commonwealth's decision to give Fiji a month to commit to holding elections next year but is not optimistic the regime will have a quick change of heart.
The Commonwealth Ministerial Action Group (CMAG) stopped short of suspending Fiji at a meeting in London overnight but has reaffirmed its ultimatum to self-appointed Fijian prime minister Commodore Frank Bainimarama to restore democracy.
In March the Commonwealth gave Fiji a six-month deadline to restore democracy, three years after military leader Bainimarama overthrew the elected government.
After a seven-hour meeting, ministers agreed that Fiji must commit by September 1 to holding elections by October next year or face suspension from the Commonwealth.
Mr McCully, who represented New Zealand at the meeting, said the September 1 deadline was a "clear ultimatum".
"They've got one month to commit to elections next year. That process needs to be preceded by dialogue involving all the political parties in Fiji and it needs to be superintended by the Commonwealth and the United Nations.
"It's a result I'm very comfortable with, reflecting the decision of the forum leaders earlier this year," Mr McCully told NZPA.
"New Zealand regards it as a good, fair outcome and a chance for Fiji to think again about the path that they're on."
Mr McCully said he was not optimistic that the new deadline would bring about a change of heart for the Fiji regime but "hope springs eternal".
"The economic situation in Fiji has been deteriorating. There's got to be a point where the regime decides it's time to re-engage with the international community and accept some help.
"I hope this is the time but I'm not holding my breath."
- NZPA