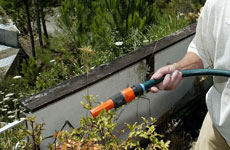 An Australian man has been charged with murder after he got into a fight with an elderly man who was watering his lawn in southern Sydney.
A 66-year-old man was watering his front lawn about 8.30pm (on Wednesday at Sylvania), when a 36-year-old man approached him.
A verbal argument ensued relating to water restrictions, prompting the older man to reportedly wet the younger man with the hose.
Police allege the 36-year-old responded by punching and pushing the older man to the ground and then kicking him.
An off-duty police officer intervened and arrested the 36-year-old.
The older man was treated by ambulance officers and rushed to St George Hospital in a critical condition but died soon after.
The 36-year-old was arrested and later charged with murder.
He was refused bail and is due to appear at Sutherland Local Court on Thursday morning.
A Sydney Water spokesman told AAP if the time stated in the police report was correct, the deceased man was not violating Sydney's water restrictions.
Level three restrictions allow residents to water their lawns and gardens with hand-held hoses before 10am and after 4pm on Wednesdays and Sundays.
©AAP 2007