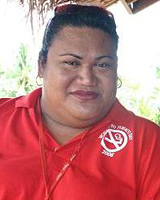 Despite fa'afafines being very much part of the Samoan culture, the impersonation of a woman is still illegal under the Crimes Ordinance 1961 of Samoa.
Fa'afafines, otherwise known as transvestites, cross dressers or homosexuals are deeply ingrained in the Fa'aSamoa according myths and legends.
Lau Dr Asofou Soo a Professor of Samoan studies defined the faafafine as: "Men who act like women, feel like women and tend to do work done by women."
According to Samoan Dictionary by G.B Milner a fa'afafine is defined it as "a feminine man or youth."
The Transgender website, which talks about transvestites in many cultures, has an interesting definition drawn from Paradise Bent, a documentary about Samoan faafafines.
"When it comes to gender, it seems there is a truly Samoan way of seeing the world. Fa'afafines are boys who are raised as girls and take on the domestic duties performed by women around the home, raising the children, caring for the elderly, and bringing the family together."
In addition to those roles, fa'afafines in recent years have spearheaded health campaigns, the promotion of human rights issues as well as dominating the fashion designing scene in Samoa.
This month saw more than 10 fa'afafines from around the Pacific take part in the Men who have Sex with Men (MSM) conference held at the SamoaTel conference room.
The vibrant and diverse personalities of the participants provided a smooth edge to an otherwise taboo topic in the Pacific.
The objective of the Conference according to President of Samoa Aids Foundation Mr Ken Moala is to create a network of organizations and individuals from around the Pacific to lobby for and advocate in the interests of the MSM community.
"The term (MSM) is very fluid, for want of a better term we are trying to identify exactly who we are, there's various terminologies, but the common objective is for intervention with STIs and HIV/AIDS on how best we can protect ourselves and our community," Moala said.
Part of the advocacy process, includes the influencing of "archaic" legislation which discriminates against MSMs and fa'afafines.
Moala was asked if the network would focus on the Samoan legislation which not only prohibits the impersonation of a woman, it also contains anti-sodomy articles.
According to the 1961 Crimes Ordinance it is illegal for a male to impersonate a woman with "the intent to deceive any other person as to his true sex."
The article goes on to state that using typical female products, accessories or "any other article intended by him to represent that he is female or in any other way is impersonating or representing himself to be a female."
The maximum penalty for such a crime is six months of imprisonment or a fine not exceeding $200.00.
But this is not a major issue according to Moala.
"Regarding our own legislation, I have already been in contact with the Attorney General's Office, the comment is that they need to be repealed, because we do not live in a society which bans the impersonation of women," Moala said.
According to the HIV/AIDS campaigner, it happens anywhere.
"The AG told me they would not enforce it because of our cultural stance but to me that's not an issue, there's a lot of issues that we should be concerned about and once of those is that were safe here in Samoa."
Currently no fa'afafine or person has been charged under this law.
Health
Head of UNAIDS in the Pacific Mr. Stuart Watson has expressed his concerns about the persistent nonchalant attitudes of Pacific cultures towards HIV/AIDS.
"I hear in a lot of countries and certainly in the Pacific that we have strong cultures, strong religions and these will keep us safe, it is simply not true," Watson said.
Health statistics and research says otherwise according to Watson.
"We have young populations which are sexually active and we know that because of the statistics on Sexually Transmitted Infections (STIs), all countries in the Pacific have some of the worlds highest rates in STIS, Samoa has a extremely high rate of Chlamydia, you have very high teen pregnancy rates in Samoa and throughout the region," he said.
From such facts Watson says "we know that young people are having sex and they are having unprotected sex, so we have to be realistic."
According to Watson the Pacific apart from Papua New Guinea poses a "very low prevalence" rate of HIV/AIDS, however all the elements are present to take it to epidemic levels.
"Everything that we need to bake a cake is sitting in the kitchen, we have everything that will lead us to a disaster," he said.
Since the first case of HIV in Samoa, 12 people have contracted the disease, 8 have died and 4 are still alive to date.
Watson says Samoa is fortunate to learn from the experiences of the rest of the world.
The low rate and fragile population of Pacific countries is a worrying factor in the issue of HIV/AIDS according to Watson.
"If we had a 1-2-3 per cent infection rate we would be talking about more than the social and economic impact, we would be talking about whether a country can even survive with the cost of addressing an epidemic at that level, so we have to make sure we don't get to that point, because HIV could end up challenging the sovereignty and in fact the very existence of our cultures in the Pacific."
Sports
The Opeloge siblings from Samoa dominated the weightlifting competition in the South Pacific Games (SPG) last week winning all three events in their respective weight divisions.
Ele, Mary and their brother Niusila lifted a combined weight of 788kgs securing nine Gold medals in all.
Along with their wins Niusila and Ele also broke long standing records in SPG.
Niusila broke the SPG record in the Clean and Jerk weight of 190kg and Ele broke SPG records in snatch, clean and jerk, and total weight.
She also managed a Commonwealth record much to the delight of her family.
Society
Samoa has come up with a new way to track its commitment to the United Nations eight Millenium Development Goals.
The Ministry of Communications and Information Technology (MCIT) and the National ICT Committee of Samoa partnered with the United Nations (UN) to purchase two digital display boards to be placed in front of the Government building and taken around Samoa.
The purpose of the digital boards according to the UN is to use information and communication technology (ICT) to promote the Millennium Development Goals (MDGs) through the use of renewable energy.
"This project is part of Samoa's ICT4D (Information and Communications Technologies for Development) funded by the UNDP. The two MDG boards will provide a powerful tool that can be used to display the 8 MDGs, relevant promotional messaging, and facilitate tracking of progress towards achieving the MDGs targets by 2015," the UN stated.
The 8 MDGs are drawn from the actions and targets contained in the Millennium Declaration that was adopted by 189 nations and signed by 147 heads of state and governments including Samoa and 13 other Pacific Island Nations during the UN Millennium Summit in September 2000.
The National ICT Committee, which is chaired by Prime Minister, Hon. Tuilaepa Lupesoliai Sailele Malielegaoi agreed to purchase the two solar powered MDG boards earlier this year at a cost of nearly WST $150,000.
Village beat
The coconut wireless informs me that some who received special passes for the SPG are not too happy about a certain accreditation privilege. "The knife and fork are not on my pass," said one disgruntled volunteer. He was referring to the small graphic of a knife and fork on passes which allows the holder to dine for free in the SPG special food courts. "This is not fair, I want a knife and fork too," said one local TV Reporter.
So as you can see, when it comes to food, we do not rest easy.
Manuia le Aso.
By Cherelle Jackson

Email

Cherelle