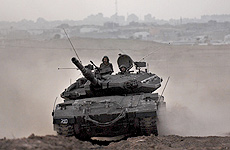 GAZA - Palestinian militants fired several rockets at Israel from Gaza on Sunday just hours after a ceasefire aimed at ending five months of bloodshed in the coastal strip took effect.
The truce, which has raised the possibility of moribund Middle East peacemaking being revived, is designed to end rocket attacks and halt a crushing Israeli army offensive in Gaza.
Islamic Jihad claimed responsibility for firing three rockets at southern Israel and said it would not agree to a ceasefire unless Israeli military activity also ended in the occupied West Bank. No one was hurt in the attacks.
"There is no way to talk about a truce as long as aggression continues on any of our land," Islamic Jihad, one of the bigger Palestinian militant organisations, said in a statement.
The armed wing of the governing Hamas Islamist movement said it fired two rockets at Israeli targets, arguing Israeli troops were still inside Gaza despite a statement from the army that all had withdrawn.
Miri Eisin, a spokeswoman for Israeli Prime Minister Ehud Olmert, said the truce did not cover the West Bank.
"Whether this is the last act before the ceasefire or whether it means they are not participating in the ceasefire, we don't know yet," Eisin said.
The Israeli army said it had withdrawn its forces from Gaza overnight, before the truce took effect. Palestinian witnesses earlier confirmed soldiers had left northern Gaza, where operations against rocket-launching squads had been focused.
"Thanks to God the Israeli forces have quit our land in defeat. We feel like victors," said Abdel-Majid Ash-Shanti, 23, who lives in northern Gaza.
The ceasefire -- if it holds -- could pave the way for a long-awaited summit between Palestinian President Mahmoud Abbas and Olmert on ways to restart peacemaking. Peace talks collapsed in 2000, just before a Palestinian uprising erupted.
The truce might also speed up efforts to arrange a swap of Palestinian prisoners in Israel for an Israeli soldier whose capture by gunmen in a cross-border raid from Gaza in late June sparked the Israeli military assault.
Hamas, whose rise to power in the Palestinian territories after winning January elections triggered a Western aid boycott that has deepened economic hardship, had been instrumental in persuading militant groups to agree to the truce.
But the unwillingness of Islamic Jihad to sign up at all could be a major setback.
Abbas, a moderate whose long-dominant Fatah faction was beaten in the elections, informed Olmert of the deal in a phone call late on Saturday. The president has long sought a halt to the attacks, calling them "useless".
Israel, which completed a pullout of troops and settlers from Gaza in September 2005, threatened last week to step up the military offensive after an upsurge in rocket attacks.
More than 400 Palestinians, about half of them militants, have been killed in the offensive, Palestinian hospital officials and residents say. Three Israeli soldiers and two civilians have been killed since the assault began.
- REUTERS