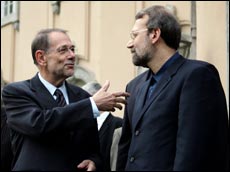 BERLIN - Talks between the European Union and Iran over Tehran's nuclear ambitions will continue in Berlin today, an EU spokeswoman has said, adding that discussions so far had been "very intense".
European Union foreign policy chief Javier Solana met Iran's chief nuclear negotiator Ali Larijani for more than five hours in Berlin on Wednesday for talks aimed at resolving the dispute over Iran's nuclear programme.
"The only thing I can say is that talks were very intense," said Solana's spokeswoman Christina Gallach as the two delegations left the Berlin meeting, adding that Solana and Larijani would reconvene in the morning.
The United States, Britain, France, Germany, Russia and China have offered Tehran economic and political incentives if it suspends uranium enrichment, which the West believes is part of a nuclear weapons programme.
Tehran says its nuclear enrichment activities are aimed at generating electricity and has so far refused to halt them.
The Washington Times reported this week that Iran was close to a deal that would include a temporary, 90-day suspension of uranium enrichment and clear the way for talks on incentives.
But Iran dismissed the report as propaganda.
French officials said Larijani offered to consider a temporary enrichment suspension at a meeting with Solana two weeks ago. Western diplomats had said details of this possible suspension would be discussed at Wednesday's meeting in Berlin.
US Secretary of State Condoleezza Rice spoke briefly with Solana immediately before his meeting with Larijani.
Rice played down prospects of a breakthrough.
"Obviously, if we can come out of this with an Iranian decision to suspend its enrichment and reprocessing activities, completely and verifiably, then we would be on course for negotiations and that is the course we would all like to pursue," she told reporters in Washington.
"But I did wish Javier Solana luck and we are all awaiting the outcome of his discussion," she added.
If Tehran does not suspend enrichment, the United States and the "EU3" -- France, Germany and Britain -- have agreed to ask the UN Security Council to impose sanctions on Iran. China and Russia oppose sanctions and would prefer to reopen negotiations.
The Security Council originally set an August 31 deadline for Iran to halt enrichment which Tehran ignored. The six powers then agreed to give Solana until early October to reach a deal.
A European diplomat confirmed a report by German magazine Der Spiegel, which said the EU3 would be willing to begin preliminary talks with Iran even if it does not suspend enrichment first.
The condition for starting such talks would be a positive result from Solana's meetings with Larijani -- in other words, an indication that it would suspend enrichment, he said.
Washington would not join in until a full suspension was in place. "The idea would be to get Iran back to the negotiating table," the diplomat told Reuters on condition of anonymity.
- REUTERS
By Louis Charbonneau