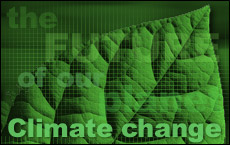 The indigenous people of Alaska may become the first global-warming refugees as their frozen homeland goes through the quickest defrost since the end of the last Ice Age, around 12,000 years ago.
The permafrost on which their houses are built is melting, the sea ice that protects their shorelines from the savage Arctic storms is retreating and the animals on which they have traditionally relied are in decline.
Alaska's native human population - the Inuit - first began to voice concern at the end of the 1990s when they saw startling changes to the Arctic environment.
First it was the thinning of the sea ice on which they trek in search of early winter game. It made hunting for bearded seals or "ugruks" more precarious, with the increased risk of falling through the thinner ice, said Benjamin Neakok, a resident of the north Alaskan outpost of Point Ley.
"It makes it hard to hunt in fall time when the ice starts forming. It's dangerous to be out," he said in a testimony given to a report compiled in 1998.
"It's not really sturdy. And after it freezes there's some open spots. Sometimes it doesn't freeze up until January."
Then there was the melting of the permafrost, the permanently frozen ground that the Inuit rely on for support of the wooden piles on which their houses are built. Suddenly the ground began to melt.
Some locals began to talk of "drunken forests", caused as the frozen earth beneath Alaska's forests of black spruce turned to mud. Trees collapsed.
In some coastal areas, the retreating sea ice exposed the land to the full force of the harsh winter storms, allowing the sea to erode the land with an increased risk of flooding.
"When I moved here, the sea was 40 feet [12.1m] from the house. Now it's about 10 feet [3m]," said Joe Braach, the headteacher of the school at Shishmaref, a town of about 560 on a small barrier island off the northwest coast of Alaska.
Scientists are in little doubt the region is going through a period of dramatic warming - perhaps the most rapid for thousands of years.
The Arctic is like a basin of frozen water surrounded by the northernmost coasts of America, Russia, Scandinavia and Greenland, and the frozen ice cap has always retreated during the long polar summer days.
But the summer melting period is getting longer. Scientists say the period has been extended by about five days every decade, leaving less and less ice at the end of each summer. The sea ice has thinned by about 50 per cent since 1950.
If the situation continues as it has done over the past 50 years, and man-made greenhouse gases continue to rise as predicted, computer models suggest there will be no sea ice at all at the North Pole by the summer of 2080.
- INDEPENDENT
By Steve Connor