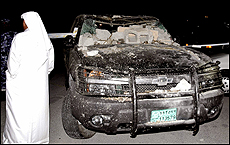 DOHA - Investigators hunted for clues yesterday as to whether al Qaeda was behind the suicide bombing of a Qatar theatre that killed a Briton, the first such attack in the US-allied Gulf Arab state.
The bomber, an Egyptian national, rammed a car laden with explosives into the one-storey theatre near a British school in the capital Doha during a production of Shakespeare's "Twelfth Night", officials and witnesses said.
The Qatari Interior Ministry identified the suicide attacker as Omar Ahmad Abdullah Ali, who also owned the vehicle, Qatar-based Al Jazeera television said. Egypt's Foreign Ministry had no immediate comment.
An Interior Ministry official earlier said the blast had injured 16, mostly Arabs and Asians.
Energy-rich Qatar, which served as command centre for US-led forces during the invasion of Iraq, has previously been spared violence by Osama bin Laden's al Qaeda despite the group's vow to expel "infidels" from the region and topple U.S.-allied rulers.
No group has so far claimed responsibility for the attack, which came two days after the suspected leader of al Qaeda's wing in Saudi Arabia urged Muslims in Qatar and other Gulf states to wage holy war against "crusaders" in the region.
Brigadier General Ahmad al-Hayki of the Qatari Interior Ministry told Al Jazeera television that authorities were investigating any al Qaeda involvement.
Qatar - a peninsula jutting into the Gulf - prides itself on its security and has not experienced suicide bombings before.
The attack sent jitters through the expatriate community in the country, prompting some Western schools to shut their doors.
An administrator at the American School of Doha said it was closed on Sunday but would reopen on Monday. The Doha College international school said it would stay shut indefinitely.
The Interior Ministry said the blast had been caused by a car rigged with explosives. Two blocks of the Fareek Klaib area around the theatre were sealed off.
Al Jazeera said about 100 people were watching the play.
"We are still in shock and can't believe this happened," an American professor at a Qatar university campus told Reuters.
"So many of us go to that theatre every week. It makes me nervous but I still feel safe overall because I've lived in this region for many many years," she said, asking not to be named.
The force of the blast shattered windows of cars and buildings in the area, including at the British school. A guard at Doha English Speaking School said about 40 teachers living in its compound were evacuated but were unhurt.
"At first we thought the blast was part of the play but when we realized it was a bomb we ran out," a British woman who had been watching the play told Reuters at a nearby hospital.
An American woman with a cut across her forehead was apparently in shock. "It was a bomb, it was a bomb," she kept repeating.
Washington last week advised its citizens to be vigilant for possible terrorist attacks in the Middle East and North Africa.
Anti-US sentiment is high in the region over the Iraq war and perceived US support for Israel against the Palestinians.
Last year, a car bomb in Doha killed exiled Chechen rebel leader Zelimkhan Yandarbiyev. A Qatar court sentenced two Russian spies to life imprisonment for the assassination but they were later handed over to Moscow at Russia's request.
- REUTERS