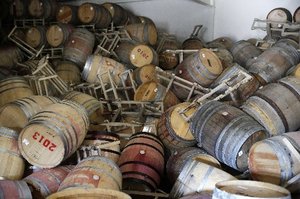 Damages could be substantial to the capital of the US wine industry after Sunday's 6.0-magnitude quake in Napa Valley, California, experts say.
Blessed by prime weather for growing wine grapes, Napa is a centre for production and bottling of top-value cabernet sauvignon, pinot noir and merlot from some 1600 local vineyards, and is a hugely popular destination for tourists as well.
Watch: Strong California quake causes injuries, damage

Sitting just north of San Francisco, the valley stretches 50 kilometres over some of the most geologically active faultlines in North America. It is an important contributor to the economy of the richest US state.
The farms, some 500 wineries and associated businesses employ about 46,000 people and generate more than 300,000 jobs nationally, according to the local trade association Napa Valley Vintners.
In 2011, according to research house Stonebridge, Napa shipped nearly 50 million cases, one-fifth of all the bottles produced in the United States, contributing US$26 billion (NZ$31.1b) to the California economy.
Sunday's earthquake, the worst since 1989, damaged scores of buildings and shook vineyards preparing for what was predicted to be a generous harvest.
Pictures from the area showed storage rooms with wine barrels and wine bottles shaken from storage racks onto the ground, though reports suggested not a large amount of wine was lost.
Yet the quake, which also tore up roads, came one week before the Labor Day holiday weekend, which would normally send many thousands of visitors cruising through Napa for vineyard tours and tastings.
Watch: Napa Valley cleaning up after quake

It was too early to make a clear assessment of the damage, but according to the catastrophe insurance estimator Eqecat, the total impact, for immediate costs and longer-term fallout for California's economy, could be US$500 million to US$1 billion (NZ$599m to NZ$1.2b).
"The greatest damage has been to the historic buildings. Several buildings in the downtown core of Napa have sustained bricks falling off buildings and some partially collapsed or leaning walls," Eqecat said.
"At this time, it is not known how much of the structural damage is major and how much is cosmetic."
As for the wine industry, Eqecat said there were unclear levels of losses. "At this point in time the Napa Valley wine harvest had already begun. Had this event occurred pre-harvest these losses would have been less."
Napa Valley Vintners said it was still collecting information on the damage to the industry, saying it expected to know more within a few days.
- AFP