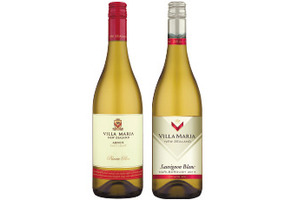 In a fast-evolving digital world with a colossal number of images hurled at us every minute, it's important to make sure your product or service gets noticed.
Ever aware of developing trends, and with a reputation for innovation and creativity, the people at Villa Maria have given their wine label yet another subtle makeover.
"We're starting a new era by giving an old favourite we've loved and cherished for the past 50 years a fresh new look," says owner and founder Sir George Fistonich. "It's always dangerous and fraught with potential problems but you've got to move on."
Villa Maria celebrated its 50th vintage last year and wanted to start the next 50 years with a fresh new look. So, from the landmark 2013 vintage onwards, a new logo and label design will appear on all wines.
It's a cleaner, more modern look. The job of reinventing the winery's logo and label was given to Kiwi multimedia designer, Aaron Pollock, who has returned to New Zealand from New York.
Pollock has an impressive client portfolio including working on such luminary brands as GAP, Nautica, Calvin Klein, Tommy Hilfiger, Martha Stewart and Hilton Hotels.
Some of the changes Pollock has made are subtle: the look is less cluttered but bolder, with a new crown and capsule design. It has a "less is more" visual appeal and manages to retain that unfolding sense of history, place and position deserved by one of New Zealand's premier producers.


Recommended
2012 Villa Maria Private Bin East Coast Arneis (old label) - $22
Slowly garnering a following, this arneis is delightful, vibrant, fruity and tending dry. A medium-bodied white that displays elements of almond, spice and peach flavours and is great with seafood.
2013 Villa Maria Private Bin Early Release Marlborough Sauvignon Blanc (new label) - $22
All you would expect from a Marlborough sauvignon - gushing, refreshing and finely tuned for easy early drinking. Different label - same quality.