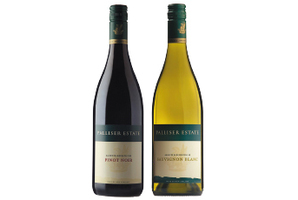 Palliser Estate, that revered Martinborough producer of fine wines since 1984, has gone to the dogs - six of them in fact. It's like this: when a special vintage deserves extra attention and recognition, the "pinot dogs" appear. According to managing director Richard Riddiford, "These beloved canines are a perfect match for the uniqueness of special wines."
The great dogs whose photos are on the bottles have appeared are 2002's "Great Bear", 2005's "Great George", 2006's "Great Harry", 2008's "Great Walter", 2009's "Great Marco" and in 2011 the "Great Paloma". I was part of a recent tasting group who got to try the latter four wines and "Harry" was my favourite. Harry the dog apparently never barked and was everybody's friend. When he lived in Oriental Bay he was an honorary lifeguard, attempting to rescue swimmers who didn't need rescuing.
Harry's vintage was drinking perfectly and had that brownish rim that comes with ageing gracefully. Full, lush and with a savoury undertone ... in a blind tasting it could have been a French Cote Rotie.
Walter's 2008 was Central Otago-ish with lighter cherry fruits and a minty, almost feminine flavour, and an easy drinking style. Walter the dog failed his final exam as a trainee guide dog because of anxiety and an unwillingness to accept responsibility. It mattered not, because in the end he was better off being immortalised with his own wine.
"Marco" in 2009 had an appealing savoury sweetness and was all class. The canine it was named after ended up living on Mercury Island and had a helicopter flight log of 300 hours. A dog's life indeed.
The youngest, Paloma's 2011, is a medium pinot with mild complexity and fine-grained tannins with spicy nutty oak touches. Nothing complex about Paloma the dog - playful with a delightful sense of fun she managed to destroy the table legs and chairs of an expensive antique dining room set with her teeth. Sometimes vineyards, especially in winter, can get a tad boring.
Alas, these lovely wines are made in such small quantities they rarely become available, but for $102 you may just discover a bottle of "Paloma".
Fortunately, the Palliser Estate portfolio has other wines worthy of your attention.


Recommended
2010 Palliser Estate Pinot Noir - $54
Always reliable. Big, savoury, earthy flavours with an underbelly of dark red fruits and delicately poised tannins. Fabulous.
2012 Palliser Estate Sauvignon Blanc - $20
Just what you want in a New Zealand sauvignon - swagger and suppleness with bright vivacious gooseberry, grassy flavours and a lick of sharp tangy acidity.