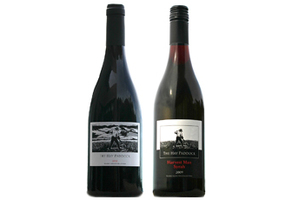 It doesn't seem all that long ago that friends and Waiheke neighbours Chris Canning and Bryan Mogridge began their winegrowers' dream to make the definitive wine.
It's the mid-life fantasy of most oenophiles, but these two are no Johnny-come-latelies: Canning founded De Redcliffe Winery and Hotel du Vin in Waikato; Mogridge has held executive roles at Corbans and Montana and is a past chairman of The Wine Institute.
Acquiring a piece of land near their respective homes in Onetangi, they established a 5ha vineyard, The Hay Paddock, and with their debut 2006 vintage set out to make the world's best syrah.
"We wanted a French flavour," says Mogridge. "The clones are from France's Rhone Valley. We're trying to produce a syrah that's not like anybody else's."
Says Canning, the winemaker: "When the grapes arrive at the winery door the vintage has already been decided."
Enter relatively new Waiheke resident and world-renowned viticulturist Danny Schuster, who has come on board as vineyard consultant.
"Wines are about passion, courage and persistence, ultimately it's about character," he says.
"Making wine is recognising what you have, making it as good as you can and [not changing] a thing."
Syrah has been a runaway success for other Waiheke producers as well as The Hay Paddock. There is definitely a strong regional character, with the island's syrah generally less pronounced and fruit-driven than the more heavyweight, expressive blockbusters from Hawkes Bay. It doesn't mean one style is better than the other; rather consumers have more choice with regard to personal preference.
Interestingly, The Hay Paddock also has some petit verdot that is being blended in all vintages, sometimes up to 14 per cent.
"It's wonderful to lift the wine with its floral notes," says Canning.
Schuster adds: "The Hay Paddock syrah is about charm and corruption - Keith Richards on a good day."


Recommended
2010 The Hay Paddock Syrah – $68
From a great vintage this will acquire even more complexity in the next 15 to 20 years. It is fresh and fruity with all the swagger of youth yet has class, sophistication and smoothness of age.
2009 Harvest Man Syrah – $34

One hundred per cent syrah, this entry-level wine is very popular by the glass in restaurants. It is similar to its big brother with finesse and understated red fruit flavours and is excellent value.