Winery inspires display at famous garden show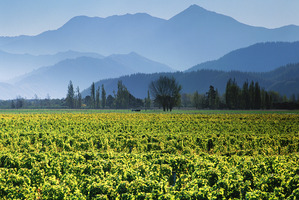 The world's most famous flower show will have New Zealand water and wine flowing through it next month. The "Discovery Garden", inspired by Marlborough vineyard Cloudy Bay, will be part of the Chelsea Flower Show in London.
Top British garden design team Andrew Wilson and Gavin McWilliam are working on a space to represent the history of the New Zealand brand.
In a reference to the Marlborough landscape, there will be large boulders across the garden of native flowers and shrubs, and a terrace will provide an area to entertain or relax - and sip wine.
A bubbling stream will run through the garden, reflecting the patterns and characteristics of the Wairau River area, where the Cloudy Bay winery and vineyard were established.
McWilliam already has strong ties to New Zealand and to New Zealand wines.
The Scotsman proposed to his Aucklandborn wife, Gretchen Lister, at Waiheke Island vineyard Stoneyridge.
The pair later married at Mudbrick Vineyard, also on Waiheke Island. McWilliam said he was honoured to take Cloudy Bay New Zealand to the Chelsea stage.
He was also keen to do future work in New Zealand and has his sights set on the Ellerslie Flower Show.
"We love the landscape, the people and the progressive architecture," McWilliam said.
"It would provide an excellent opportunity for me and Gretchen to spend more time with the family in Auckland if we landed some big schemes."
"We have also discussed taking part in the Ellerslie Flower Show at some point, either as designers or possibly on the judging front.
"My colleague Andrew has more than 17 years' judging experience for the Royal Horticultural Society."
• The Chelsea Flower Show runs from May 21 to 25.