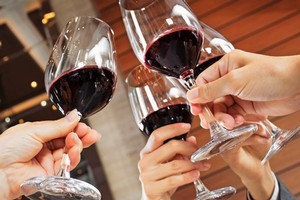 How cheap does wine have to be before it is socially unacceptable to serve to guests?
With the discounting that goes on over summer, wine that won't make every guest suddenly claim pregnancy can be bought for about $11.
However, a glance at the cavernous hole above the "Special - $8" sign in the supermarket wine section is evidence this guideline can and will be stretched.
If buying from your local corner shop, at least a few dollars should be added to the $11 minimum.
If you must go below, there are options.
With cask wine, add some class by having your wife/husband bring you the cask with both hands, pour a little into a glass, then swirl it around, hold it up to your nose, sip - and give a quick nod.
Another option is to opt for red and mix it 50/50 with Coca-Cola to make Calimocho.
Hide the wine bottles and serve in tumblers tied with napkins for a classy and brandless twist.
Explain by saying that you fell in love with the drink while snacking on olives stuffed with feta and watching locals tango dance at dusk in a side alley of Madrid.