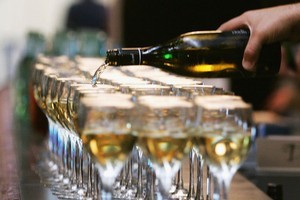 New Zealand's finest wines have been kicked out of two of Australia's most prestigious award shows.
The Royal Hobart International Wine Show has "temporarily suspended" its invitations to New Zealand winemakers while the Perth Royal Wine Show has also closed the door to Kiwi wineries.
A local wine expert says the move is understandable as under-siege Australian winemakers are getting fed up with awarding their top prizes to New Zealanders.
Royal Agricultural Society of Tasmania chief executive Scott Gadd said there had been an "informal understanding" with organisers of the Air New Zealand Wine Awards and Royal Easter Wine Show that both shows could be opened to winemakers and judges from Tasmania.
"And that hasn't happened," he said.
"So our committee has taken the decision to temporarily suspend entries in the hope that somewhere down the track, Tasmanian wines and Tasmanian judges would be allowed access to your two national shows," said Mr Gadd.
"I would dearly love New Zealand wines to come back into our show so I'm hoping this decision might prompt a bit of a rethink over there."
Wine author and columnist Michael Cooper said the move - which sees the likes of award winners Villa Maria, Saint Clair and Nautilus Estate excluded from the competition - was "understandable".
He said Australian wine shows had been "generous" allowing New Zealand winemakers to participate but it was unlikely they had anticipated the success of wines made here.
"If New Zealand's greatest strengths are Sauvignon Blanc and Pinot Noir, the best place in Australia to compete against those varieties would be Tasmania [where it makes up 40 per cent of production].
"But the Pinot Noir trophy is going consistently to New Zealand, so whoever is funding that trophy is funding a New Zealand winemaker to go to Burgundy in France. They must be asking themselves 'why are we doing this?'."
Mr Cooper said the Australian industry was "under siege" with their wines less in favour internationally, the high Australian dollar making it harder to sell and the country being hammered by natural events.
He said 15 per cent of the Australian domestic market was held by imported wines, the majority from New Zealand.
Mr Gadd said New Zealand winemakers would be invited back to the competition "absolute post haste" if its demands were met.
But Shona White, event co-ordinator for the Royal Easter Wine Awards show, said access for foreign winemakers to the show would be impossible - meaning the ban in Tasmania could be a long one.
"Only wines where the grapes are grown and the wine is produced in New Zealand will be accepted. It's the same in Australia, they have competitions that are only for Australian wines," she said.
Ms White said she could not recall any discussions with Australians about entry into the event, which celebrated 58 years earlier this year.
"Someone's telling you porkies, I'm afraid."
Chris Yorke, global marketing director for New Zealand Winegrowers, said the Air New Zealand Wine Awards had only ever been open to New Zealand wines, although overseas judges had participated since its inception.
Alasdair Maling, Villa Maria's group winemaker, said the snub was disappointing.
"It would have been nice to be able to continue over there. We typically do well in the Pinot Noir category, it could be jealousy, maybe ?"
The Tasmania ban comes as the Perth Royal Wine Show also barred New Zealand winemakers. Spokeswoman Maryanne Shaddick said a decision to make the competition open to Australians only had been under discussion "for some years".
Canberra's National Wine Show also delisted Kiwi winemakers last year, saying it wanted to intensify local competition.
Hobart Show
In the past two years, New Zealand wines have won:
23 gold awards.
17 silver awards.
47 bronze awards.
* james.ihaka@nzherald.co.nz