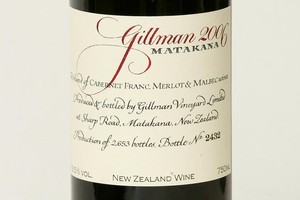 Despite tough times the wine industry continues to be regarded as edgy and sexy. We're not talking heavily reduced wines at your local supermarket ... no, these are wines with integrity, verve and genuine panache.
Surprisingly, wines that can be described as "fine" or even "elitist" are usually not the beverage of choice of trendy new monied entrepreneurs or showy wide boys. They tend to order champagne with recognisable international labels in a vain attempt to impress. The real connoisseurs are often surprisingly ordinary average types who don't need to be showy. They have read about and tasted all manner of wines from around the globe and are prepared to pay accordingly. To call them snobs is unfair.
They have highly developed palates, and enjoy wines of excellence. Peter Maude is the New Zealand agent for some of the world's finest French wines, especially Burgundies. A Rumpole of the Bailey sort of character, he was a banker in a previous life, while Michael Jemison, the managing director of Macvine International (which brings into this country some exquisite high end wines from around the world) is a former insurance broker and at one stage a policeman.
Invercargill is home to a group of wine enthusiasts who meet on a regular basis to taste, debate and analyse some of the world's most stunning wines. They include accountants, engineers, teachers, signwriters and plumbers.
Recently, I came across a local wine that I vaguely knew existed but had never tried. Silly me. It is superb. This Gillman Vineyard was a revelation, from a small holding in Matakana, just north of Auckland. Primarily a blend of cabernet franc, merlot and malbec, there is a strong nod towards a classic French Bordeaux style.
As well, there is a clairet style, a lighter red wine not usually made here, and not to be confused with claret. This is sort of a rosé style but with considerably more depth, flavour and weight. Cabernet franc and merlot are the primary grapes used, so clairet is a darker and more brooding wine than a modern rosé with more fruit, richness, texture and structure. It is best served lightly chilled.
Production is tiny and all bottles are numbered. Of course - Toby Gillman, the producer, is an accountant.
Recommended
2006 Gillman Matakana Bordeaux Style $70
Latest release and sheer class with fine balance, texture and flavour. A bold wine with loads of attitude. Cassis, plum, herbs and spice and most importantly, that X-factor.
2009 Gillman Matakana Clairet $30
Small production available from the winery only. Supple, fruity, early drinking style. Light tannins but an attractive, approachable and refreshing wine. This is worth seeking out.