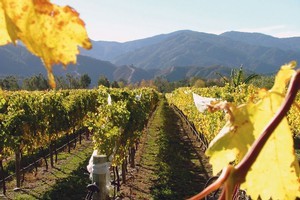 A Chinese television series on New World wines featuring three episodes in New Zealand will reach a potential audience of 600 million viewers.
The 10-episode series, a Chinese, Australian and New Zealand venture, was filming in Marlborough this week.
Stephen Richardson, business development manager for production company Gibson Group which is working on the New Zealand episodes, said the goal was to introduce the wines to China.
Not only would it promote Marlborough wines, but had the potential to promote Marlborough as a tourist destination for Chinese.
"We believe this will have a huge impact on the Marlborough industry," he said.
The series was being jointly made by state-owned Tianjin Television, from the port city of Tianjin near Beijing, a Melbourne production company, and Gibson Group.
The three Chinese episodes are sponsored by large Chinese winemaker Dynasty Wines, while the four Australian episodes are backed by the State of Victoria.
In New Zealand, Marlborough wineries Jackson Estate, Wairau River and Marisco are sponsoring the production. "This is an extraordinary act of faith on their part," Richardson said.
The collaboration had come about through a unique set of events. He had attended the 50th anniversary celebrations of Tianjin Television last year as a representative of Wellington, which has a partner city relationship with Tianjin. He met television executive Li Jiasen and the idea was mooted.
It got approval when Gibson representatives returned in June with a Wellington mayoral delegation. Then the ANZ Bank, which had conducted a tour of Kiwi exporters including winemakers to China in May, put them in touch with interested wineries.
The arrangement had huge potential, Richardson said.
"What we're doing on a few fronts is putting together relationships and deals that are going to be extremely significant to New Zealand in the future."
The TV series could trigger an explosion of New Zealand wine sales in China, just as a 1990s BBC series had done for local wine in Britain.
Chinese wine drinking was still mainly of reds, consumed by men at banquets, and one aim was to show how Australasians drank wine as part of their lifestyles.
"[We want to show] wine that can be enjoyed more casually with food and appeal to a younger audience, and also to women."