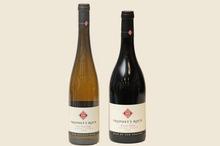 I've just tasted one of the world's best dry rieslings and it's from Central Otago. Prophet's Rock, to be exact. That it was brilliantly paired with a ceviche of hapuka, orange and salted rhubarb salad, courtesy of downtown Auckland restaurant, Prime, may have had something to do with it. Also helping considerably is that winemaker Paul Pujol (French father, New Zealand mother) spent a number of years working vintages in France's Alsace for famous white wine producer Kuentz-Bas. Until Pujol arrived there had only been family members making the wine since 1795.
Now firmly ensconced in one of the world's southernmost wine-growing regions, he brings that old world tradition and knowledge to the innovative, enterprising experimental culture that permeates all of Central Otago.
"At Prophet's Rock we have only one hectare of riesling and we want to get it right. The grapes are hand-picked and we use these long, slow ferments and natural yeasts," says Pujol. "Alsace wines are textural, they're not as pretty and don't show so well initially as New Zealand styles ... we're looking to get some of that texture in our wines. That's the marker for me."
It's working so far.
As well as riesling, there's a 2009 pinot gris that, when I tasted it, had been in the bottle for only two weeks and was already showing it was destined to be a show-stopper. Viscosity, minerality and oiliness with the sort of swagger and attitude you often look for but rarely find in a pinot gris. This is one to watch.
Owner Mike Mulvey brings the same sense of focus and ideals to Prophet's Rock.
"The vineyard is now 10 years old and we want the wines to stand on their own feet. We don't add fertiliser to the vines, we want them to express what our soils are."
It's a wonderful combination. Vineyard sites in the Cromwell Basin at Bendigo and Pisa obviously blessed with grape-growing greatness, an owner more passionate for performance than profit, and a winemaker with considerable skill and a keenness to benchmark his own wines against all comers.
Sometimes in the New Zealand wine industry there's too much navel-gazing. To find out how good our wines really are, we need comparisons not against each other but against the world's best.
2008 Prophet's Rock Dry Riesling
Bone, bone dry. Cheek-clenchingly so. From a well-drained, warm, stony, mineral site. Bursting with citrus flavours and a mouthwashing oily texture. Collectors' item. Not for the faint-hearted.
Price: $29
2007 Prophet's Rock Pinot Noir
The pinot is always held back for three years before release to allow development in the bottle - an accountant's nightmare but a winemaker's dream. Soft, balanced and stylish.
Price: $45
By John Hawkesby