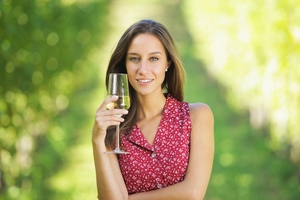 New Zealand winemakers could stand to benefit from a global shortage of wine, a new report says.
Demand for wine is outstripping supply, the report from American financial services firm Morgan Stanley said. Global wine production peaked in 2004 and has been steadily falling since, with international demand outstripping supply by 300 million cases last year, resulting in "the deepest shortfall in over 40 years of records".
"Plummeting production" in Europe driven by "ongoing vine pull and poor weather" was partly to blame. The shortfall was expected to result in a "significant increase in export demand, and higher prices for exports globally".
New world wines - from Australia, Chile, Argentina, South Africa and New Zealand - were best placed to benefit, the report said. New Zealand export growth had historically been very strong, rising ten-fold over the past 15 years as demand for its sauvignon blanc "skyrocketed".
"Stable domestic consumption, a rebound in export demand, combined with a fall in production has seen NZ move into an undersupply situation for the first time in more than 15 years."
New Zealand relied on three export markets - Australia, Britain and the United States, the report found.
"Export prices for New Zealand wine are high and rising, almost double Australia's pricing and second only to France on the global stage," it said.
New Zealand Winegrowers chief executive Philip Gregan agreed New Zealand wine prices had been rising, but the global shortfall wouldn't result in a sudden surge. "There's always people that can do it cheaper and we're not at the cheap end of the market."
New Zealand wine exports were now worth $1.23 billon annually - expected to rise to over $1.3 billion by June 2014, he said. Sauvignon blanc, pinot noir and pinot gris had been the most popular varietals in recent years.
"And we're seeing out of places like China, growing demand for our red wines. It's cabernet merlot, pinot noir - those red wines for which New Zealand has an international reputation." The report showed "the background against which we're operating", Mr Gregan said.
"To run a sustainable business model in New Zealand for grapes and wine there's no option but to focus on the quality end of the market.
"There are plenty of other places in the world which can grow grapes more cheaply than New Zealand."
The report focused on "bottom-end wines" and "we're not at the bottom end of the market", he said.
The Morgan Stanley report said new world wines now accounted for 30 per cent of global exports, up from less than 3 per cent in the early 1980s.
"In the past couple of years, production declines have continued in France, Spain and Italy and new world production has peaked."
The French remained the largest consumers followed by the US, which with China had contributed most to the demand increase.
- APNZ