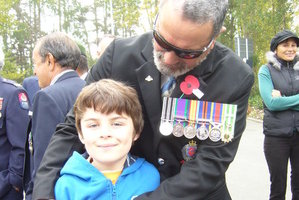 Police have located the medals stolen from a Paihia war veteran's home earlier this week.
Mike Joyce, 68, was staying with a relative when someone broke into his flat and stole seven medals awarded for service in conflicts in Borneo, Malaya and Vietnam.
While police carried out forensic enquiries Mr Joyce's children launched a social media campaign in the hope of getting the medals back. As a result police searched four addresses on Wednesday afternoon, two in Kawakawa and two in Moerewa.
The medals, along with other stolen property, were found hidden in a cupboard at one address.
Far North area prevention manager Senior Sergeant Chris McLellan said police were appalled at the theft of the medals, which had a lot of sentimental value.
''He was very upset that they had been taken. Burglary is a violation for all victims and we take this crime seriously.''
Mr McLellan said the victim's family was very grateful the medals had been found so soon. Frontline police as well as CIB, Youth Services and Road Policing staff had been working to locate the offenders and return the medals.
Mr McLellan said the offenders were not at home when the searches were carried out but police were following strong leads.
Daughter Becky Joyce, of Whangarei, was delighted the medals had been found so quickly. The family was grateful to the police, to everyone who had helped spread the word via social media, and to everyone who had shown their support.
The medals included a New Zealand Operational Service Medal, New Zealand General Service Medal with clasp for Borneo, South Vietnamese Campaign Medal, Federation of Malaysia Medal, two Vietnam medals and a New Zealand Defence Force Medal.
For more articles from this region, go to Northern Advocate