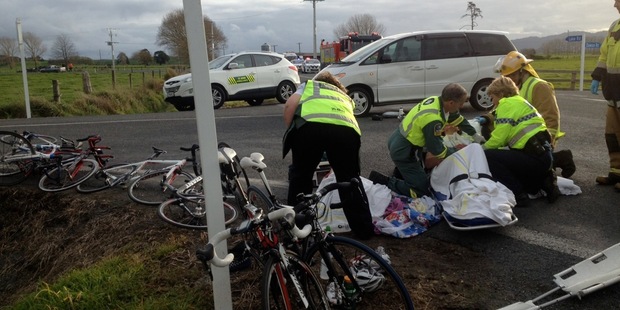 Do you know more? Contact the Herald here.
The driver of a van which collided with a group of cyclists in Waikato this afternoon has told of his shock at the scene of the crash.
A group of seven female cyclists were riding in a bunch when they were hit by the van at the intersection of Lake Road and Dawson Road, near Taupiri, at about 4.25pm.
Five members of the group - including a number of teenagers - were injured, with three people airlifted to Waikato Hospital with status 2 injuries.
Another three suffered moderate injuries and were taken by ambulance to hospital.
The driver, who did not want to give his name, said after the collision that he got out of his van to check on the seven teenage girls and women who were cycling.
"I helped them getting up and untangled them and got their bicycles out of the way,'' he said.
The wife of the driver said the couple were deeply concerned for the wellbeing of the injured cyclists and their families.
"We hope that the injured people, that they don't get injured too badly and we wish for their safe recovery,'' the woman said.
She was at the scene to support her husband who had been travelling home to Hamilton from work.
"He's in shock at the moment. Two and a half years we have travelled these roads...'', she said.
Waikato Sergeant John Stapleford said the cyclists and the van collided at an intersection near Taupiri.
He said the young women suffered head injuries and injuries to their limbs.
It was too early to say whether charges would be laid, but Mr Stapleford of the Waikato Highway Patrol said it was another reminder to vehicle drivers on rural roads to be considerate for other road users, especially cyclists.