Each week, Wendyl Nissen takes a packaged food item and decodes what the label says about its contents.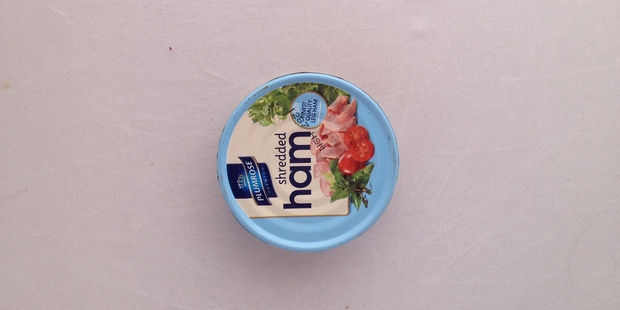 Plumrose Shredded Ham Smoked
$2.19 for 85g

A while ago I looked at chicken in a can and wondered why you wouldn't just get a bit of chicken, cook it and eat it. But I discovered that they were very popular with busy bodybuilders wanting a quick hit of protein.
This product raises similar questions for me. Why wouldn't you just buy some ham and slice it up into small bits instead of buying it already shredded in a can?
Ingredients (in order of greatest quantity):
Pork (53%)
This means that just over half of this can actually contains meat, the rest is made up of mayonnaise and additives. So this isn't strictly "shredded ham" as it says on the label - it's technically ham in mayonnaise.
Mayonnaise (26%)
[Water, vegetable oil, skimmed yoghurt (15 per cent) (Contains milk), thickener (1414), vinegar, egg yolk (2 per cent), salt, wheat starch, spices (contains mustard), preservative (202), food acid (330), thickener (412) (415), sweetener (950), antioxidant (385)]
These are all fairly common ingredients for the cheaper brands of mayonnaise. The thickener is acylated distarch phosphate (1414), the preservative is potassium sorbate (202), the food acid is citric acid (330) and the other thickeners are guar gum (412) and xanthan gum (415). None of these ingredients have known health concerns.
The inclusion of a sweetener rather than sugar is a shame as acesulfame potassium (950) is 200 times sweeter than sugar and had a controversial approval process when the Centre for Science in the Public Interest said animals fed this in two different studies suffered more tumours than others that did not receive it.
The FDA said that it found long-term animal studies in dogs, mice and rats had not shown any toxic effects and approved its use. The antioxidant (383) is calcium disodium EDTA which in large amounts may cause kidney damage and muscle cramps. It is a common ingredient in canned goods to retain flavour.
Water
Salt
Potato starch
This is like corn starch but obtained from potatoes and used as a thickener.
Spices
Sugar
Stabiliser (451)
This is diphosphates (451) which have no known health issues.
Vegetable oil Thickener (407)
This is carrageenan which is a gel extracted from seaweed and will be in here as a filler. It also has concerns from health activists because it can be an intestinal irritant and the joint Food and Agriculture Organisation and World Health Organisation expert committee on food additives advises it be kept out of infant formulas.
Smoke flavouring
Smoke flavour is achieved by burning wood chips or sawdust which produces smoke which is condensed into solids or liquids. The flavouring is safe for human consumption. However the European Food Safety Authority is testing some smoke flavours after animal testing showed that it can damage DNA, the genetic material in cells.
Antioxidant (316)
This is sodium erythorbate - produced from beetroot and sugarcane.
Lactose
This is a sugar found in milk.
Milk protein
This is protein taken from milk.
Preservative (250)
Sodium nitrite is used to inhibit the growth of the bacteria which causes botulism but there is concern that it reacts with stomach acid to form carcinogenic N-nitroso compounds during digestion. This is a common ingredient in ham and bacon.
My recommendations
I'm a bit confused about why there are so many preservatives in a canned product. Usually the advantage of canned goods is that the canning process preserves the food naturally rather than having to add artificial preservatives into the food product. I think what has happened is that the ham comes with preservatives in it, as does the mayonnaise, and these have simply been mixed together and canned with a handy snack in mind.
I'm not very enthusiastic about the use of sodium nitrite, but as I've said in previous columns if you want ham, you have to take it with the sodium nitrite in most cases.
The addition of the sweetener acesulfame potassium, carrageenan, and smoke flavour means most healthy eaters won't enjoy eating this product as they all have some health concerns attached to them.
Instead buy the best quality ham you can find, add some good quality mayonnaise and you have the same thing, only without the can.

Highlights
*Quite a few preservatives for a canned food product.
*Nearly half of this can is mayonnaise and additives.
*53 per cent pork.
*Made in Holland.

Do you have a food product you would like to feature?
Email wendylwantstoknow@gmail.com with suggestions. Unfortunately, Wendyl cannot correspond with readers.
On the web:
Click here to read Wendyl's columns on other food products