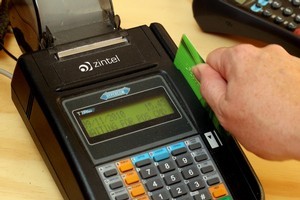 The girl behind the counter at The Warehouse shook her head in disbelief. "Thank you for your honesty," she said.
Just 15 minutes before she had been completely frazzled as she dealt with my shopping cart full of pillows, sheets and towels while she cautiously eyed up the 10 customers lined up behind me. It was lunchtime and she was the only girl on.
"Oh, no problem," I said flicking my hair and hoping she wasn't being bothered by the glare from the imaginary halo I had just placed on my head.
Just moments before, I was unpacking my purchases into the car when I spied four fluffy towels in the bottom tray of my trolley. I had placed them there when the trolley became full and had not seen them when I was at the checkout so, essentially, I had shoplifted them.
And, to be honest, it took me a few minutes to decide whether I had it in me to be a shoplifter. I looked around and saw no one who looked like a security officer and I fantasised about quickly closing the boot and driving away.
I reasoned that the free towels were perhaps some sort of karmic return for all the crap I've bought at The Warehouse over the years which collapsed and stopped working the minute I got it home. And then Head Girl stepped in.
"You are probably part of a sting operation to catch middle-class white women like you. No, even better, you are part of some dreadful reality TV shows called Warehouse Watch or Trolley Patrol and they are filming you right now as part of their "How honest are you really?" section and they are waiting to see what you will do."
"Shut up," I said.
"I'm just saying," she said, becoming a little Nasal.
"I have worked in television, I think I would know if there was a crew around, they have a distinctive smell and they're not very good at hiding."
"I wonder if any of the papers would run the story when you got caught. I can just see the headline 'Greenie Smash-and-Grab Gran'
with a picture of you stashing the towels in the boot of your Prius. I also doubt
the lovely people who lend you the Prius to drive would be very happy with that kind of endorsement."
"Go away."
"And I'm not sure if you know this but your arse looks huge in those pants when you bend into the car like that."
"I hate you," I said to Head Girl before taking the towels back, queuing for another 10 minutes behind the now extremely stressed checkout girl.
They cost $68. A sum I could well afford and, as it turns out, a very cheap and legal way to get a Head Girl high.
As I drove out of the carpark, I could sense that everyone I came across that day would see my new halo and think "Now there goes a really good, honest woman".
I sang along to the car radio "I can see clearly now the rain has gone."
And then it hit me.
"I wonder if I'll be repaid by the laws of good and evil for such an honest act?" I asked myself and then I did a U-turn. I parked outside Briscoes and went in search of the conical burr.
I have been obsessed with the conical burr ever since someone who knows about making good coffee told me that the only way to grind coffee beans is using a conical burr, not a blade as I have been doing.
I drink only one cup of coffee a day and it has to be the best you can get. So I roast my own green coffee beans, grind them and put them in a stove-top espresso pot. But what I really needed was a conical burr. The only problem is that buying a conical burr would cost me just under $200.
I walked into the shop, went straight over to the conical burr section (you may have guessed by now that I really like the way conical burr sounds, which is why I'm using it a lot in this column).
And there it was. One of the few things marked down in the store by 50 per cent.
"Score!" I said a little too fiercely.
"Well done you," said Head Girl.