Marine Recreational Forecasts - Wellington
11:07 AM September 3, 2014
Area Description:
Wellington Harbour and the south coast from Sinclair Head to Baring Head.
Situation:
A narrow ridge affects the region today. A south to southeast flow develops on Thursday as a low approaches the North Island from the Tasman Sea. The flow turns more southerly as the low crosses the North Island on Friday and Saturday. A northerly flow develops on Sunday ahead of a front approaching from the south.
Warnings:
NIL warning for COOK
Forecast:
Wednesday: Variable 5 knots. Southerly 10 knots developing for a time this afternoon. Sea slight. Mainly fine. Thursday: Variable 5 knots. Southeast 10 knots developing late morning, easing to variable 5 knots in the evening. Sea slight. Cloudy periods and possible morning fog.
Outlook:
Outlook until midnight Sunday: Friday: Southerly 15 knots developing. Light rain developing. Saturday: Southerly 10 knots dying out overnight. Cloud, light rain clearing. Sunday: Northerly 20 knots developing. Cloud clearing.
Swell:
Swell forecast to midnight Sunday: For Wellington South Coast and Palliser Bay: Southerly 1 metre or less. For Castlepoint: Northeast 1.5 metres, tending easterly 1 metre on Thursday and tending southerly on Sunday.
Moon Phases
Sep 02
First Quarter
Sep 09
Full Moon
Sep 16
Last Quarter
Sep 24
New Moon
Isobaric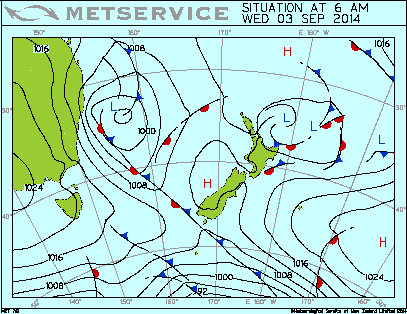 September 3, 2014
For more detailed weather information visit