Marine Recreational Forecasts - Wellington
10:49 PM February 21, 2017
Area Description:
Wellington Harbour and the south coast from Sinclair Head to Baring Head.
Situation:
A large high to the southeast extends a ridge onto the country. A front over the lower South Island weakens as it moves northwards today. Another high begins to build over the country from the south on Thursday.
Warnings:
NIL warning for COOK
Forecast:
Wednesday: Northerly 20 knots gusting 30 knots, easing to 15 knots for a time early morning and then again late evening. Sea moderate at times. Mainly fine, low cloud developing evening.
Outlook:
Outlook until midnight Saturday: Thursday: Changing southerly 20 knots early morning, turning southeast 10 knots in the evening. Cloudy periods, morning drizzle. Friday: Southeast 10 knots easing to variable 5 knots early. Becoming fine. Saturday: Northerly 20 knots developing. Fine spells.
Swell:
Swell forecast to midnight Saturday: For Wellington South Coast and Palliser Bay: Southerly half a metre or less, rising to 1 metre for a time Thursday. For Castlepoint: Easterly 2 metres,easing to 1.5 metres Thursday and to 1 metre Friday. Southerly half a metre.
Moon Phases
Feb 18
Last Quarter
Feb 26
New Moon
Mar 05
First Quarter
Mar 12
Full Moon
Isobaric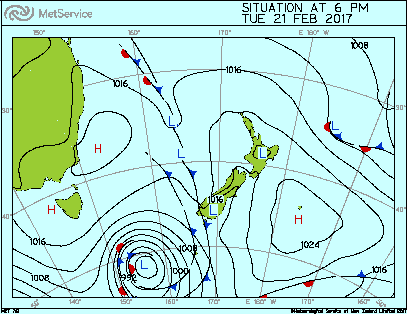 February 21, 2017
Satellite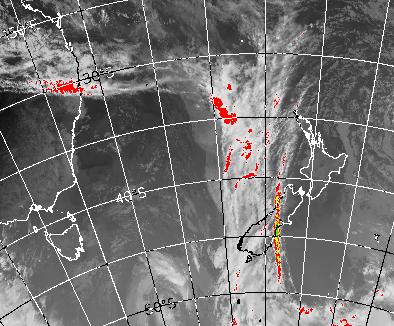 February 21, 2017
For more detailed weather information visit