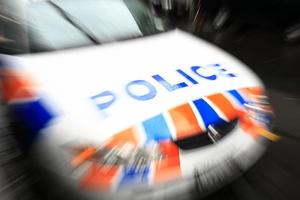 A Lower Hutt man returned home to find his wife seriously injured with a knife embedded in her abdomen.
Police are trying to establish what happened to the 48-year-old woman at her Knights Rd home shortly before 4pm yesterday.
The woman's husband found a stab wound to her abdomen and immediately sought help.
A Wellington Free Ambulance spokesman said the woman was taken to Hutt Hospital in a serious condition.
She was undergoing medical treatment today and police were expecting to speak to her tomorrow.
A team of 10 police investigators were conducting a scene examination and speaking to locals in the area.
Detective Senior Sergeant Dave Thornton said police had done an initial assessment of the scene and had an open mind about how the woman was injured.
Police are appealing for information from anyone who saw any suspicious people or vehicles in the area between 3pm and 4pm yesterday.
"It is the early stages of our inquiries and we will be interviewing our victim tomorrow," Mr Thornton said.
"I encourage anyone who has any information to approach any of the officers who are in the area. To provide some extra reassurance to the community we will have increased patrols in the area."
A Knight's Rd resident, who wanted to remain anonymous, said he lived about about four doors down from the couple.
He said he first found out something happened after seeing an ambulance and police car outside on the road.
Nothing like this had ever happened in the neighbourhood, the man said.
"Over the last few years, it's been pretty good. It's so unusual really.''
The man said he had been visited by police, asking whether anyone on the road knew anything.
"No one's heard anything,'' he said.