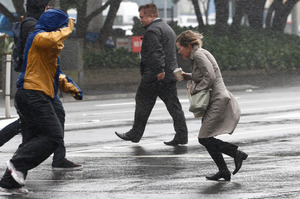 Strong winds have again caused flight delays and cancellations at Wellington Airport.
Wellington Airport spokeswoman Briarley Kirk said some flights were delayed or cancelled due to wind, however the majority were still in operation.
Passengers were advised to check their flight status via the Wellington Airport or their airline's website.
Air New Zealand's website showed flights departing Wellington to Dunedin, Christchurch and Hamilton had been cancelled this morning.
Other link air service flights have been delayed.
MetService spokesman Daniel Corbett said it was "blowing like mad" in Wellington.
"We just had a recent gust here at our office in Kelburn at around about 130 km/h, down at the airport we've been up around 100 [km/h]."
In the next few hours the strong and potentially damaging winds would peak, Mr Corbett said.
The West Coast had received a good dumping of rain and rain warnings for the north-west Nelson ranges and the Tararua Ranges were expected to ease by midday, he said.
"As that front moves northwards for the rest of the North Island through the mid-to-late part of today, it loses a bit of its bark and bite so it's not as mean, not as nasty.
"There's still a band of rain and some strong winds as it moves to the Central Plateau and Auckland.
"And then we clear that away for the weekend, which turns into kind of a blustery start to the weekend, drier for the North Island [on] Saturday."
The West Coast of the South Island should expect further showers and stronger winds, Mr Corbett said.
Meanwhile on Sunday, a trough would be coming up the country, providing a chance of showers and rain for most areas which should clear by Monday, he said.