Fiji residents are bracing themselves as Cyclone Evan makes its presence felt. Thousands of people have taken shelter in the region as Tropical Cyclone Evan batters the area with winds of up to 185km/h. Up to 400 New Zealanders also hunkered down in evacuation centres, with Cyclone Evan increasing from category 3 to 4 as it made its way towards Fiji.
Latest NZH Video
A slightly sparser crowd than usual turned out for the Cadbury Jaffa Race today, after the event was postponed from its expected July date because of bad weather. / Otago Daily Times
Jacinda Ardern speaks at the 'Let's Talk to Labour' youth event.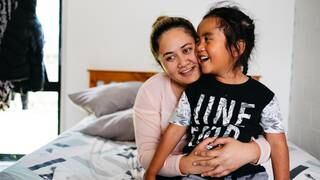 19 Aug, 2017 3:54pm
2 minutes to read
Exclusive: Compelling documentary challenges stereotypes around young mothers.