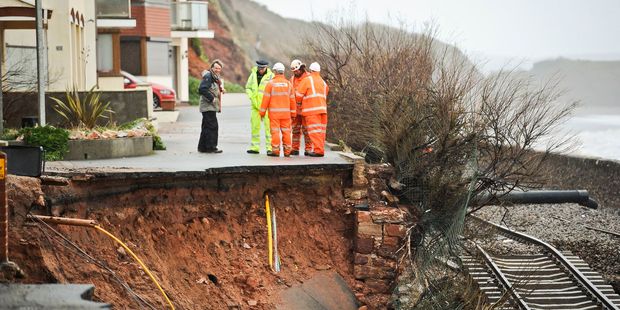 More than 8000 homes are without power in southwest England after fresh storms battered the region, sending huge waves crashing onto the coastline and damaging sea defences.
The main train service connecting the counties of Devon and Cornwall with the rest of Britain were suspended after part of the sea wall under the coastal railway line collapsed.
Local member of parliament Ben Bradshaw said the line closure was a "devastating blow" to the regional economy.
The Environment Agency issued nine severe flood warnings for the southwest, meaning there was a "danger to life", and Prime Minister David Cameron was due to chair a meeting of the government's emergency committee Cobra.
The committee has been meeting almost daily over the past few weeks, as storms have brought flooding to much of Britain, including to the southwest county of Somerset, where one village has been cut off for a month.
Speaking in parliament before Wednesday's meeting, Cameron announced an additional £100 million for flood repairs and maintenance over the coming year.
"Whatever is required, whether it is dredging work on the rivers Tone and Parrett, whether it is support for our emergency services, whether it is fresh money for flood defences, whether it is action across the board, this government will help those families and get this issue sorted," he said.
The electricity distribution network that covers Devon, Cornwall and Somerset said about 8200 properties still remained without power on Wednesday morning.
"It's all weather-related. There's been absolutely no let-up," a spokeswoman for Western Power Distribution told AFP.
A further 60,000 homes had been reconnected overnight, according to the prime minister.
Meteorologists at the national weather centre, the Met Office, warned of further heavy rain and gale force winds to come on Wednesday and through to the weekend.
Britain has been lashed by storms and heavy rain throughout the winter, with parts of southern England seeing the wettest January since records began in 1910.
- AFP