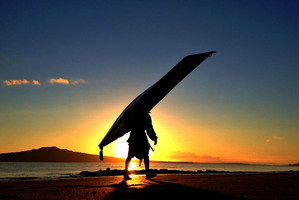 Aucklanders can expect better weather today, with the rain now heading east.
The worst of the blustery gales and heavy rain which battered much of lower New Zealand in the past two days was expected to clear this morning.
MetService meteorologist John Law said those on the East Cape and in northern parts of Gisborne were likely to have the last remnants of the stormy weather this morning but the worst of it had passed.
Heavy rain hitting central New Zealand between Taihape and Taupo should also clear.
Mr Law said clear skies and a daytime temperature of 18C was forecast for Auckland today, with yesterday's wet weather, which saw about 35mm of rain over 18 hours, pushing offshore.
Those in the South Island and in Wellington should also expect calm weather.
However, temperatures in Canterbury, where thousands of people are still without power, were expected to cool, with daytime temperatures around 13C and night-time temperatures towards freezing.
Christchurch electricity lines company Orion said about 9000 people were still without power yesterday. Most were in the rural region west of Christchurch. However, some smaller areas within Christchurch city were also affected.
Chief executive Rob Jamieson said power had been restored to all the company's major rural substations apart from one in the Burnham area.
- APNZ