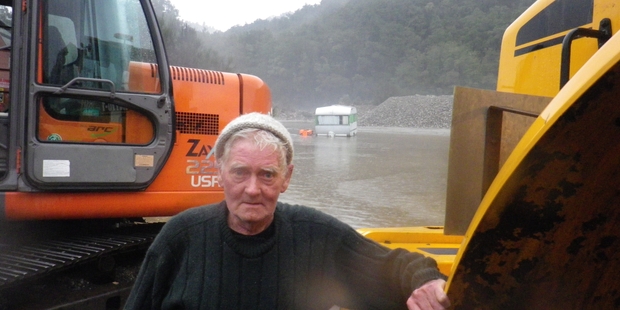 The West Coast came through last night's fierce weather relatively unscathed, though one man had to be rescued from his caravan near Reefton.
Reefton Constable Mark Watson said he was called about 6.30am to rescue a man in a caravan at Craig's Flat, about 20km past Black Point.
Alfie Smith, the on-site caretaker of the road building machinery store at the pit, woke to ankle-deep water inside the caravan.
Mr Watson said residents from two houses on Boatman's Road, just out of Reefton, were evacuated about 10am as a precaution when water from Boatman's Creek began to creep close to their homes.
Greymouth weather observer Phil Forrest said the town received just 30mm of rain over the past 24 hours to 9am.
Mr Watson said that there was extensive surface flood around the Reefton area and the Inangahua River was running high.
"The weather was easing now though so we don't expect too many more problems," he said.
West Coast Regional Council hydrologist Stefan Beaumont said the Hokitika River was running about a metre above normal and had peaked at 4am.
He said the Ahaura and Waipuna Rivers were causing the most concern.
"Both had peaked this morning, however we are keeping a close eye on them as there is more rain forecast for today."
The Buller River and the Karamea River were also being monitored.
State highway 73 was hit by flooding, with Arthur's Pass receiving 265mm of rain over 24 hours.
New Zealand Transport Agency West Coast senior asset manager Mark Pinner said flooding between Otira and Kumara occurred about 5am today, although the road remained open.
Further south did not fare as well, with the Haast Pass closed at 8pm yesterday due to concerns over the safety of the road with surface flooding and lack of visibility.