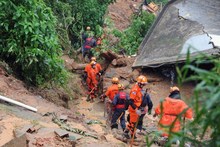 At least 13 people have been killed in mudslides triggered by torrential rains in a mountain town north of Rio de Janeiro where floods killed more than 900 people two years ago, state officials said today.
A month's worth of precipitation, or about 14 inches of rain, fell in just 24 hours in Petropolis, a town of around 300,000 nestled in mountains about 65 kilometres north of Rio. Meteorologists are forecasting more rain in the coming days.
The death toll has been creeping steadily up Monday (local time), with the head of the state's emergency response unit saying at least 13 people were killed. Officials have warned that the death toll could rise.
Earlier in the day, Rio de Janeiro state's secretary for civil defence, Sergio Simoes, told the Globo television network that the victims included two emergency responders. The network broadcast images of Petropolis' streets transformed into rivers of muddy, waist-deep waters, houses crushed beneath mud and detritus and roadways blocked by fallen trees.
Mudslides are a constant hazard here during the Southern Hemisphere's summer, which often brings torrential rains and heavy flooding. But the state has made improvements in preparing for the rainy season that may have already saved lives.
Warning sirens that were installed in Petropolis after the deadly 2011 floods were activated this time around, allowing many residents of the at-risk zones to escape to safer areas in time.
-AP