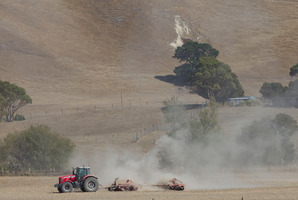 Photo / Mark Mitchell
The jump in output in 2012 was primarily led by agriculture (up 29.8 per cent) due to good growing conditions.Statistics New Zealand
Labour productivity improved in the year to last March but that was partly because good growing conditions boosted agricultural output.
Output per hour worked rose 1 per cent in the latest year, compared with a revised 0.4 per cent the year before.
But that reflected annual average growth in economic output of 2.8 per cent, more than twice the rate of the previous year.
"The jump in output in 2012 was primarily led by agriculture (up 29.8 per cent) due to good growing conditions," Statistics New Zealand said.
In the current, still incomplete, cycle since 2008 labour productivity growth has averaged just 0.6 per cent a year, compared with 1.3 per cent between 2000 and 2008 and an average of 1.4 per cent since 1996.
The Reserve Bank's forecasts published last week assume the trend in labour productivity growth over the next four years will remain around 1 per cent.
All else being equal, like labour force growth, that implies a lower "speed limit" for the economy, that is, the rate of growth it can sustain without inflation becoming problematic.
In the latest year less than a third (0.3 percentage points) of the increase in labour productivity can be attributed to capital deepening, that is, an increase in the amount of capital invested per worker.
The capital-to-labour ratio in New Zealand is about half of what it is in Australia, which is thought to go some way to explaining why over the past 15 years Australian labour productivity has grown at a pace half as large again as New Zealand's, widening the transtasman income gap.
Over the year to March 2012 multi-factor productivity rose 0.7 per cent. That is the increase in output that cannot be explained by increases in the inputs of labour and capital.
While it includes the effects of technological change and smarter management, in New Zealand's case it can also be affected in the short-term by the weather's impact on productivity on the land.
Between 2008 and 2012, by contrast, multi-factor productivity shrank by an average 0.5 per cent a year.