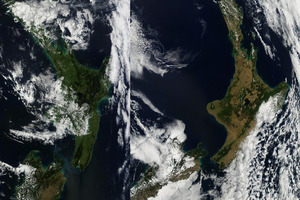 The normally wet West Coast was today the first region in the South Island to apply for an official drought declaration.
About 30 people from across the farming spectrum gathered at the West Coast Regional Council offices to see if the hard data amassed over the long, dry summer supported a bid for drought assistance.
"The (meeting) decided we should apply to have a medium scale adverse event declared urgently," Federated Farmers West Coast president Katie Milne said.
The meeting heard that official soil moisture data showed the West Coast was as dry as Waikato.
Ms Milne, who is also Federated Farmers' national spokeswoman on adverse effects, said time was running out to grow grass, with the equinox on March 20, and every spare container heading north was being filled with feed for the North Island.
"Feed is going to the North Island by the boat load," she said.
The usual feed from Canterbury would not be available for Coast farmers this year, she said, and so it was vital that farmers did a feed budget.
Some had dried off their dairy stock, or were about to dry off, and would lose part of the year's income. They would also have to pay to buy extra feed.
- The Greymouth Star
- APNZ