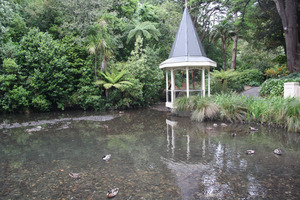 Wellington's gardens could be the next victims of the nationwide dry spell, with a total outdoor water ban for the region from this weekend.
According to the Greater Wellington Regional Council, there are just 19 days-worth of water left in the city's reservoirs, and authorities are looking to draw water from the Hutt River as a last resort.
There has been a ban on unattended watering in the region for the past six days, but a total outdoor water ban will be in force from Saturday.
A council spokesman said this meant watering gardens and using irrigation systems were strictly prohibited, and flagrant breaches of the ban could result in a fine of up to $5000.
There would be some exceptions to the ban, including large sports fields that need to be watered.
"The water is continuing to come down the Hutt, Wainuiomata and Orongorongo rivers but, of course, each day there's less and less water because there's no rain," the spokesman said.
To make matters worse, the northern Stuart Macaskill lakes, one of the region's largest reservoirs with a 1500 million-litre capacity, is currently empty while earthquake-strengthening work is carried out.
- APNZ