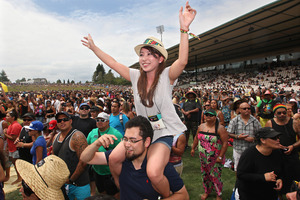 Blue skies over music fans at Raggamuffin yesterday in Rotorua will go on and on.
The country is set to bathe in golden weather over the next three months, but not before parts of the North Island experience some much-desired rain.
According to Niwa, the February to April period should be mostly dry because of a neutral weather pattern near the equator.
WeatherWatch spokesman Phil Duncan said seasonal forecasts could be unreliable but the weather should remain mostly dry from next week until early March.
"We will have an Indian Summer. Very dry and warm, this is the summer most Kiwis reminisce about," he said.
Last week's sunny spell should end tomorrow, bringing rain and cloud. However, conditions should clear up by Waitangi Day. According to Duncan, next week's rain would be only a brief break from the dry weather.
Come mid-March rain makers would start making their way through the northwest of the country and bring rain although the far north, south and east should remain dry.
"This year is much drier compared to last year, and we will enter autumn fairly dry," he said.