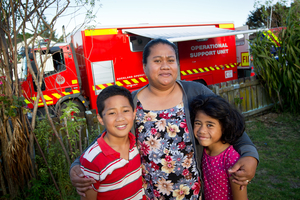 Firefighters were still dampening down hotspots at scrub fires around Auckland last night after a frantic few hours that saw a number of fires stretch resources around the city.
The most serious blaze was one in Clendon Park late yesterday afternoon that at one point threatened two homes, while two others, in Makarau and Snells Beach, started soon after.
Some Manurewa residents left their homes as a precaution while others fled when police began knocking on doors urging them to leave. "We got a shock, everyone just ran out on to the street. The police were telling everyone to get out of their houses," Rukumoana Place resident Katerina Itutu said.
"I grabbed the kids and went across the road. Those houses were okay, but our side was close to the park so we were worried."
Ms Itutu said some residents were so afraid the fire would spread they walked 200m down the road.
Another resident said fires at the park happened fairly regularly and residents had recently had a meeting about ways to help prevent them.
"We get a lot of youths walking down that path and we've had burglaries and little scrub fires caused by kids being silly and lighting things. We've asked the council to put up a fence between the path and the houses but we've had nothing."
Eight fire appliances and two watertankers were used to get the blaze it under control.
The fires come a week after the Auckland Council imposed a region wide fire ban for the first time. That had also led to an increase in calls to the fire service.
Mr Smith said there has been about three dozen calls to small rubbish fires in backyards.
Fire bans are in place here: