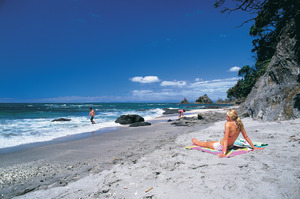 If your skin has a healthier glow than normal, it could be all the extra Vitamin D beaming down on New Zealand last year - especially if you're living in Whakatane.
Official records show last year was sunnier than normal, and Whakatane narrowly edged out Nelson with the the most sunshine hours.
While the final statistics are still being compiled, NIWA senior climate scientist Georgina Griffiths said there was already enough evidence to show most places had enjoyed more sun than normal.
Whakatane roasted with 2602 hours of sunshine while Nelson had 2584 hours for the year.
Lake Tekapo in Canterbury came in third with 2562 hours of glorious rays.
Blenheim was a rare exception to the national trend, experiencing only 95 per cent of its typical UV hours. It was still the fifth brightest town, Ms Griffiths said.
Towns and cities on the west coast of the North and South Islands were ``unusually sunny in 2012'', Ms Griffiths said.
They experienced the largest jump in sunshine hours, thanks to weather conditions keeping areas relatively dry last year.
New Plymouth, Greymouth, Te Kuiti and Paraparaumu all had their sunniest years on record.
Greymouth's stellar year saw its residents experience 25 per cent more sunshine than it would normally get, Ms Griffiths said.
"It's been a really nice time in Greymouth last year,'' she said.
Wellington, Wairarapa and parts of Northland and Central Otago experienced below-average sunlight hours last year.
Auckland was about average, Ms Griffiths said.
NIWA's full summary of last year's weather is expected to be released next week.

The six sunniest spots in 2012
1. Whakatane, 2602 hours of sunshine
2. Nelson, 2584
3. Lake Tekapo, 2562
4. Appleby, in Tasman Bay
5. Blenheim
6. New Plymouth
- APNZ