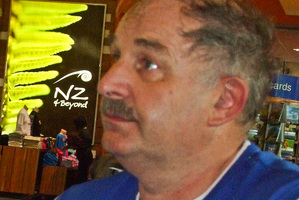 One of the men killed in Thursday's West Auckland tornado had become a great-grandfather the day before.
Keith Robert James Langford, 60, a Tuakau pilot, was one of three men crushed under concrete slabs at a Hobsonville construction site.
Brendon Johnson, 22, and father-of-three Tom Stowers, 42, both of Massey, also died.
Four other men at the site were admitted to hospital. Three have been discharged and the other was in a stable condition last night.
The Weekend Herald has learned that Mr Langford's step-granddaughter Judith gave birth to a girl on Wednesday. Mr Langford's son is Judith's stepfather.
On Thursday night, she posted an emotional message on Facebook.
"Sadly the tornado in Hobsonville claimed the life of Keith Langford my stepfather's dad.
My heart goes to my family and my mummy and her partner. Stay strong my whanau.
"Please Lord I'm sitting here praying you keep my mummy and family safe ... You already willingly took my granddad this morning ... damn the day I start my family big man decided to take someone."
She wrote that Mr Langford had been reunited in death with his wife Nikki. "Slowly my heart is breaking. I'm trying to be strong for those I'm with in spirit and for my daughter."
Mr Johnson was also remembered on a special tribute page set up by friends. "He was an awesome person. Had a great heart and he was down for life," they wrote.
Mr Johnson was working for Hays, an Auckland recruiting company. He was working on the Hobsonville High School site on behalf of Hays when he was killed.
Hays managing director Jason Walker, who is overseas, described the death as tragic.
"It's a terrible tragedy and our thoughts are with the families and friends of all those involved. We are in touch with Brendon's family ... " he said.
One of Mr Johnson's co-workers described the seconds before he died. The 22-year-old saw the tornado coming and ran towards a truck, where he thought he would be safe.
He managed to get to the side of the vehicle but a concrete wall came crashing down.
The impact flattened the truck almost to the ground.
Mr Stowers' family told the Weekend Herald they were not ready to speak publicly about his death.
His son Va'a Carlos Stowers wrote on Facebook: "To all my family and friends, please be strong for me, Tania, Jennie and especially my mum. Dad, I miss you."
Another relative wrote: "When your day starts with laughter and ends up in tears. ... the family are going through a hard time ... so sad to hear one of your loved ones leave us so early. Thoughts and prayers also go out to all those affected by the tornado."
Hawkins Construction, which was heading the building project, said it was working closely with the four subcontracting companies involved to provide assistance and support to the affected families and the men's workmates.
"This has been a terrible tragedy for the families of those killed and injured, and everyone involved in the project is deeply shocked and saddened by what has happened," Hawkins Construction executive general manager Dan Ashby said.
"We are also mindful of the devastating impact the tornado has had on the wider Hobsonville and Whenuapai communities, and we have offered our support."
Mr Ashby said Hawkins was establishing a public fund for donations to the families of the men killed.