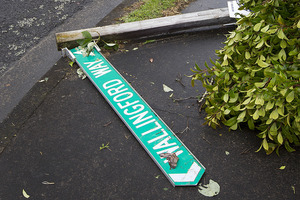 Street signage lies on the ground after a tornado hit the area of Hobsonville in West Auckland. Photo / Sarah Ivey
The recovery is underway after a series of deadly tornadoes ripped through Hobsonville, leaving a trail of destruction.
Three people died in the storm, which also damaged about 150 houses and forced 250 residents to evacuate to the nearby Whenuapai air force base.
Keep checking back for the latest updates: